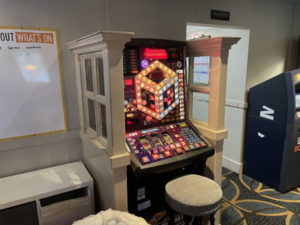 When it comes to protecting minors, there are specific rules in place for the likes of casinos and bookmakers. Those under the age of 18 are not allowed into premises that have gambling as its main function, with the protection of young people being at the top of the list of priorities for the United Kingdom Gambling Commission when issuing licences and deciding upon the rules and regulations that must be followed.
Yet people under the age of 18 are allowed into a pub where slot machines are out on display, to say nothing of airports and amusement arcades. Even motorway service stations have slot machines, albeit in an alcove with an age warning sign on display. How come it is one set of rules for certain establishments and a different set for others? What are the licensing rules and laws that are in place on this issue?
Gaming Machines Are Common In Public Places
The reason why this is a topic worth exploring is that gaming machines are one of the most common forms of gambling that you'll find around the United Kingdom. That's not really a surprise when you think about it, given how much easier it is to put a gaming machine in a pub than something like a roulette wheel or a blackjack table. This is why you'll find them in the majority of venues aimed at adult audiences.
Whether it be a bowling alley or a pub, a service station or an airport, venues where kids can be preset usually only with an adult are prime areas for gambling machines to be located. In order to have such a machine, all the venue has to do is have a gaming machine licence. The Gambling Act of 2005 allows certain venues to hold such a licence and therefore have these types of machines, whilst others are banned from doing so.
You won't be able to play on a gaming machine whilst you're waiting for your taxi to arrive to the minicab office, for example, nor will you be able to play on one whilst you eat the chips and cheese that you've ordered from a takeaway venue. Own a different type of business, however, and you'll be able to apply for a licence to offer various types of machines, with each machine type having a different sort of licence.
Pubs are able to have two Category C or Category D machines on offer as long as they've notified the licensing authority. These machines have a maximum stake of £1 and maximum prize of £100, so not exactly slim pickings. Airports and service stations, meanwhile, can have areas that are considered to be adult gaming centres, meaning that they can offer many more of the same type of machines.
Adult gaming centres can offer Category C and Category D machines, in addition to 20% of the total machines on offer being Category B3 or Category B4 machines. These allow a maximum stake of £2 and the ability to win as much as £500. It's for this reason that Welcome Break Gaming exists, operating as a gaming sector for the UK's biggest motorway service brands Welcome Break.
If a premises only wants to offer Category D machines then they don't need to ask the UKGC for a licence, needing instead to get a permit from their Local Licensing Authority. These earn less money, of course, so most places go one step further and get a licence from the Gambling Commission for Category C machines to be included too. They promise the opportunity to earn good money to premises that boast them.
On Display For All To See
The hypocrisy of such things must annoy casino operators and bookmakers up and down the country, who aren't allowed to let children onto their premises but who can take their kids to the pub and see them be distracted by the bright lights and load noises of gaming machines. What message does it send out that service stations are allowed to have 'adult gaming centres' that have scores on the machines on display for all to see?
Whilst there are signs up saying that the areas are limited strictly to people over the age of 18, vulnerable people will still be able to see them and be attracted to them. It's not as if people that suffer from gambling addiction can simply not attend service stations when on a long journey, so why is it ok for them to be subjected to gaming machines when they just want to use the toilet or get a bite to eat?
Yes, the areas where you'll these machines will have required the venue's owner to obtain a licence to operate them, but these are generally easy enough to obtain for businesses that are well run and above board. Someone who has self-excluded because of a gambling addiction might have the will-power not to enter a casino or to steer clear of a bookmakers, but they should be allowed to go to a pub without being tempted by the gaming machines.
The United Kingdom Gambling Commission puts protecting young and vulnerable people at the top of its list of priorities, regularly coming up with new rules that the likes of online operators must jump through in order to ensure that their games don't appeal to them. All of that seems quite pointless when a simple trip to the toilet at a service station sees such gaming machines thrust in their faces in the most public of circumstances.
How many parents don't realise the harm that is being done to their young child when they allow them to stand next to them and watch them playing on these machines or, even worse, actively encourage them to press the buttons. It's hardly unheard of for such things to happen, or for parents to get their little ones to wait for the money to fall into the tray and scoop it out for them, which they wouldn't be allowed to do in a casino, say.
It's On The Licence Holders
Theoretically, licence holders are supposed to stop those under the age of 18 from using machines, even to the extent of pressing the buttons. It still happens on a regular basis, however, and the licensees face little to no punishment unless they're extremely unlucky. Is a bartender in their late teens or early twenties really going to go up to a punter and tell them not to let their kids press the buttons on the machines? Is that realistic?
Yes, the adults that allow their children to press the buttons on slot machines are technically breaking the law, but the likelihood is that they'll get defensive about allowing their kids to get involved rather than admit their liability. This is hardly surprising, given the fact that the machines are on display for all to see, with nothing but a small sign a sticker making the point that they are for people over the age of 18 only.
Between 2016 and 2019, the number of children addicted to gambling had gone up four-fold. As many as 140,000 young people aged between 11 and 16 either already were addicted to gambling or else were at risk of becoming so. It's true that a lot of that will be down to the ready availability of online gambling, but how many will have first experienced the world of gambling somewhere supposedly innocent like an airport?
Many will wonder if it is fair for the likes of the Gambling Commission to be putting the onus on stopping youngsters seeing gambling machines on the likes of bar staff, motorway service station workers and people who dish out the shoes at bowling alleys. Is there not an issue with the licensing that needs to be considered? It's not as if the UKGC doesn't realise there's a problem with young people being stopped from using machines in pubs.
The Machines Can Be A Gateway
Alex Macey was a police officer working in Dorset when he lost £250,000 because of his gambling addiction. A grown man, he would often lose every penny he was given on pay day, spending as much as £900 on a spin of a roulette wheel on his phone. Yet this experience wasn't something that came to him later in life; instead, Macey first started playing on fruit machines in arcades when he was just ten-years-old.
He began by using his pocket money, later stealing coins from his mum in order to allow him to play more. This was his gateway into the world of gambling, playing on low-cost fruit machines in amusement arcades that had maximum stakes of ten pence but could pay out as much as £5 per spin. They might have seemed harmless, but for Macey they started him on a path that would end in ruin.
The fact that kids are no longer allowed to play on such games, which changed in 2019, might stop some from going down the same path as Macey, but the presence of such machines in areas where children can roam free means some will fall through the cracks. Once again, the responsibility to stop young people playing on such machines lies with the arcade owners, which feels like a passing of the buck from the licensing authorities.
Airports Are Just As Bad
In 2008, it was decided that Heathrow Airport would be allowed to install slot machines throughout its premises. The decision came after long negotiations with the European Union and was made on the basis that it would be 'beneficial' to the airport overall. Soon, Heathrow began advertising the fact that it could offer players 'tax-free' gambling for them to play on whilst waiting for their flights to different parts of the world.
Though the majority of people using airports are adults, the simple fact is that a wealth of children will also use the airport when travelling on family holidays or trips away with their school. Kids were soon not only seeing the machines around airports but also watching their parents, teachers or guardians playing on them. It suddenly not just service stations where such forms of gambling became normalised.
It's not just young and vulnerable people that get exposed to these gambling machines at airports, either. Visitors the United Kingdom who might not be allowed to gamble in their home country will also be seeing them and maybe even using them. It's not exactly an outrageous claim that they might then begin engaging in illegal forms of gambling once they've returned home because they got the bug on readily available machines.
In 2012, four years after the decision was taken to allow such machines in Heathrow, British Airways' owner, IAG, bought BMI from Lufthansa. Though it was ostensibly done in order to allow BA to get their hands on the main BMI airline, the other aspect of it was that BMI owned the slot machines in Heathrow. Though 14 of them had to be released as part of the deal, it meant that BA got an extra income as part of the deal.
Would British Airways have purchased BMI without access to the slot machines? Almost certain yes, but it still indicates the extent to which gambling is big business even in a location that you wouldn't associate with betting, like an airport. It's an area that the Gambling Commission might have been expected to look at reassessing its licensing decisions, but that didn't happen in the decade or so that followed the decision.
Why The Double Standards?
Casino operators and bookmakers might well wonder why it is that the Gambling Commission operates such double standards, but the truth is that they're unlikely to get a satisfactory answer. It is likely that things such as roulette and blackjack being 'harder' forms of gambling will be close to the top of the UKGC's answer on the matter, but that doesn't necessarily hold water if you look into it at all.
Yes, table games are certainly more serious forms of gambling, but the UKGC can't discourage game makers from creating games that appeal to kids with one hand and then say that they're not 'hard' enough to be clamped down on with the other. The licensing requirements for gaming machines that will be seen by children and young people in public spaces aren't anywhere near as egregious enough as many people feel they should be.