We've all been in those situations where something goes wrong or an issue crops up and a company will say something along the lines of, "well, it is written in the small print" or "that is stated in our terms and conditions". Naturally, nobody really reads these in full, do they? And why? Because they're often 5,000 words long and reading through them would take a long time. Not only that, but they often incorporate technical terms or business lingo that sometimes doesn't make sense to the average person. However, it is really important to know about certain parts of the terms and conditions of anything, so that you know what you're signing into and up for.
The same is true when it comes to online gambling sites. They should always offer a look at terms and conditions for you. And even though these also tend to go on for a long time, there are vital parts of these that you need to be aware of as a player. How should you read these terms and conditions without getting bogged down with too much technical jargon or getting fed up before you reach the end? That's what we're here to speak about and inform you of. Because there are certain key points that you ought to be looking out for when it comes to the small print at online gambling sites.
Finding Key Information In Gambling Sites T&C's
It is easy to locate specific areas of the small print provided by casinos and sportsbooks. Simply hit the Ctrl + F buttons on your keyboard and you can type any term into the box that shows up. Then, the document will highlight all parts of the conditions where that term is written. This makes navigating through the document a lot easier. At the same time, you can find the key pieces of information necessary to your gambling experience at your chosen site.
What are the key terms that you should be seeking out when you view the terms and conditions of any online betting site? Well, here are some of our recommendations and details on why these should be a prime focus for you.
Deposit & Insolvency Protection
It is common knowledge for all players that to be able to engage in real money gambling, you need to deposit money into your casino or sportsbook account. That money is then usable for you to be able to place bets on the various sports markets, casino games, poker rooms and so on. A key part of the terms and conditions regarding depositing is that the payment method you use should be in your name if it is a card deposit or bank transfer or e-wallet. Someone else does not have the permission to make a deposit into your account nor use it on your behalf.
It also key to note that the account cannot be utilised as a sort of bank account. Essentially, this relates to you depositing money into it to save up and then withdraw in the same way you would as a bank account. A platform will usually denote a specific timeframe in which you need to use the money in your account to gamble, otherwise it will be classified as 'Inactive'. Such is the case at William Hill after a period of thirteen weeks has passed in section 2.4 of its T&Cs.
A site must also inform you of where your deposited funds are stored. This matters enormously in the cases of a company becoming insolvent. Should all player funds be stored in the same location as the company funds, then there is no telling what money is being used up by the company. Should insolvency hit, then there would be no protection for the funds you have deposited in this instance. Essentially, your deposited funds as well as any winnings would be lost forever. Therefore, a casino or sportsbook needs to have a separate account for player funds, keeping them apart from its own funds. If you see this as part of a site's conditions, then you know that your deposited money is protected against such potential issues arising.
Sites will state either no protection (funds held in a separate account but not protected in the event of insolvency), medium (some form of insurance to protect customer funds if a company goes bust) or high (funds held and managed independently meaning you will get a full refund if a company fails).  Ultimately you should be looking for medium or high protection, especially if you commonly leave significant amounts of funds in betting accounts.
Remember gambling companies are not banks and you shouldn't rely on them to protect your money in the same way.
Rules Surrounding Periods of Inactivity
There may be a time when you forget about gambling or become disinterested in participating in such. This could result in you pretty much abandoning your gaming account for a time period or forever. If you leave an account inactive and it still has a balance, then platforms will usually write rules into their terms and conditions surrounding such. The Betfair platform for example, has an entire section dedicated to information about inactive periods and fees charged for such.
Within those rules, the terms state that the company will charge you a fee on a monthly basis. If you have not logged in for 13 consecutive months or more and your account is in credit, then you will be contacted by email after the first 12 months of inactivity. Should there still be no activity on your account following this timeframe, then the Inactive Account Fee will be applied until the balance reaches zero. The fee can differ from platform to platform, although Betfair does not charge UK players such a fee. If you are located outside of the UK though, this charge is roughly £5 per month.
It is important for you to learn about this fee before you sign up because if you do intend to leave the world of online gambling, it may be more beneficial to you to withdraw your balance at the same time.
Payout Limits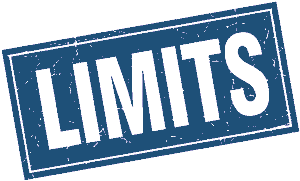 Some people may not know it, but online sports betting sites can impose payout limits on different sports and associated markets. If you are expecting a large reward from wagering on a specific event, then you should always make sure this is actually plausible via the terms and conditions of the site.
Generally, you will find that the largest payouts can come from betting on football matches taking place. Different sites have different maximums in place, so while a maximum of £2,000,000 can be won and paid out from William Hill, BetVictor only offers maximums of £500,000 in comparison. If you look at horse racing side-by-side with football though, William Hill has a reduced maximum payout of £1,000,000, but the BetVictor limit remains as £500,000.
Sports like tennis, golf, rugby, darts, snooker, cricket, Formula 1 and so on have even lower maximum payout limits. This limit should always be stated within the T&Cs.
Beware of novelty and special bets, e.g. betting on TV shows, the next Pope or James Bond, winner of BBC Sports Personality of the year, etc. These bets tend to have the lowest payout rates, which can sometimes be as low as £500.
While many sites will not let you stake more than you can win not all sites do, therefore check in advance if placing big bets or bets with high odds or you could end up getting back less than you expected.
Withdrawal Limitations
Many terms and conditions will also place a focus on terms surrounding being able to withdraw money from the sites. Naturally, as a player who will likely want to cash out at some point, it is ideal to know what limitations are in place regarding this. An entire section is dedicated to deposits and withdrawals at the LeoVegas online casino. These dictate the fact that a minimum withdrawal of £10 is in place, but that you can request a lower amount by contacting customer support.
It is also worth checking for fees on deposits and withdrawals.  Most sites have no fees these days but sometimes they levy a fee if you make more than a set number of withdrawals or if you deposit and withdraw without playing with that money.  Methods such as pay by phone and other less common methods can also carry fees.
Looking back to the Betfair terms, information within states that identity verification is required for any customer reaching the amount of £2,000 in deposits prior to a withdrawal being able to be made.
Some platforms do place additional restrictions on the amount that you can withdraw every day, week or month, too. Sometimes, limits can be imposed on each transaction you make, too. Usually, an online betting site will restrict you from requesting more than the daily amount or per transaction amount via the cashier anyway. But, it's ideal to be aware of the limits imposed overall, because if you reach a point of trying to request more than the limit in place, you won't know why it is being denied to you.
One example where maximum withdrawal limits can come into play is if you have a big jackpot win.  Let's say you win a progressive jackpot with a site in the millions but that site has a monthly maximum withdrawal limit of £50,000 (for example), it would take you a long time to get those funds out and all of that time your funds are at risk if the company should go bust.
Errors and Cancellations
While it is usually the case that errors won't occur at online betting sites, anything is possible. You need to know about the sort of protocol in place should something go wrong. Of course, errors can affect you in a big way without a certain set of rules in place, and so it is important that you know how a platform deals with such.
Turning our attention to the terms and conditions in place at Mr Green Casino and Sportsbook, section 5 of these informs you on the errors process. The gaming operator makes itself unblameable for any errors with regard to bets and wagers placed where certain circumstances have occurred. This includes an obvious error or misprint in a paytable or similar, if bets or wagers have continued being accepted on closed or suspended markets in error, human error made by an employee or contractor and so on.
It is also the case that Mr Green reserves the right to limit, refuse or cancel any wagers that you want to place at the platform. Again, the conditions will potentially differ from casino to casino and sportsbook to sportsbook but staying on top of the information in place surrounding errors is always a good thing to look for. Most platforms will hold themselves not liable in the case of software error, though.
Still, as was the case when Andy Green (no relation to the Mr Green Casino brand) was denied a payout by Betfred in 2018 of over £1.7 million.  Betfred claimed a software error had taken place and this was detailed in their T&C's, the court, however, ruled that those terms were not clear enough and Betfred ultimately had to pay out.
Customer Service & Complaints
As the customer, you need to know that you have the right to complain. Not only that, but you need to be aware of what the procedure is should you want to take things beyond the standard route of complaining to the casino support team. That will usually be the primary option to go for, but if you are not satisfied with how your complaint has been handled that way, then you need to know of the escalation protocol.
If the casino or sportsbook is a member of an organisation such as eCOGRA, then this is a secondary option to go for. This opens up a more formal complaints dispute between yourself and the gambling operator. Different countries may also have different organisations that they can open such disputes up with, so for example, Danish players using Mr Green can contact Forbrugerklagenævnet instead.
Ideally, a gambling site will look to satisfactorily deal with your complaint before it reaches that stage. However, it is ideal for you to know that there are other avenues that you can take in order to try and obtain the result that you want.
Storage of Your Data
One final part that you should always check into when reading the terms and conditions is how the site stores and uses your personal data. Obviously, when you register for an account, your details are used to do so, but what happens to that information afterwards? Plus, what about the payment method(s) that you use for depositing? Obviously, card details need to be added to transfer money in some circumstances. How does the site save that information?
Your privacy should be something that is highly paramount to a betting site, and so there should be relevant information for you to see about how your privacy is protected. In most cases, the terms and conditions will state that all data submitted to a site is processed and dealt with in accordance with the Privacy Policy that is in place. That is a document that serves as a sort of aside to the terms and conditions. This should also be available to view on the website, providing in-depth details about the data that you submit and how the site utilises it for marketing purposes etc. That policy should also inform you of if and how that data is shared and what your rights are as a customer of the platform.
GDPR and data protection rules also mean you have a right to request any personal data a betting company may hold on you.  You also have the right to be forgotten and you can request upon account closure that all of your details and data are deleted.