The betting industry has undergone many changes in recent decades, and the majority have come in response to the introduction of internet betting. One such major introduction has been live betting, or in play betting, as it is commonly referred.
This has greatly increased opportunities for customers and business for bookmakers at the same time as they can now lay odds and accept bets for events while they are taking place.
Before the advent of live betting you would place your wager before the game and then sit back and wait for the result. If your team was winning you just hoped they held on to the end. If your selection was losing, then there was nothing you could do except hope that they somehow pulled the result out of the fire.  Now with live betting you can bet when you want depending on how the action is unfolding, and combined with cash out you can also decide when to end your bet.
What Sports is Live Betting Available For?
Almost every sport you can think of has some element of live betting available. In fact, for some sports and events there are now more in play markets available than pre-match; and with some bookies you can even bet on horse races even after the race has started.
With different sports and matches taking place all over the world, the door has been opened for bookmakers to have live betting opportunities available all day long.  Due to global time differences, you can often bet on things like Asian sport first thing in the morning or American sports in the middle of the night.
Sports such as football, tennis, basketball, and rugby have a great number of betting opportunities, with some sort live betting pretty much always available.  Then there are sports such as Volleyball, Handball, Cricket, Darts, Golf, Motor Sport and Snooker (to name a few) all with live action on at least a weekly basis.
Even markets you wouldn't necessarily think of are covered in play.  During a political election, you can often bet on the action as the results are being announced; if you like to sit up through the night and watch the election results come in you can now also have a bet on your predictions at the same time.
Live Betting Explained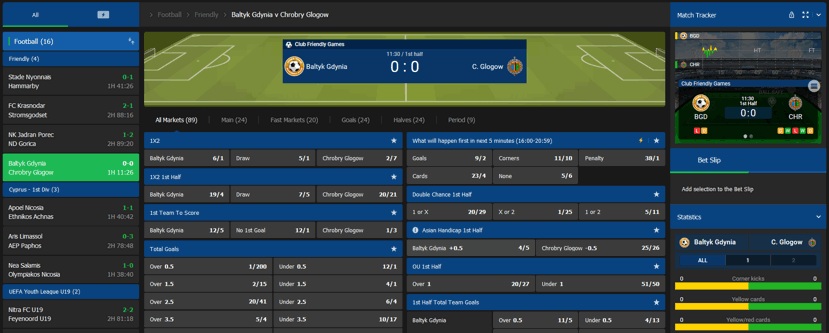 For me, this is where the real excitement lies on a betting site. As the live action takes place the odds on a game will continually fluctuate. It's as if a new game starts every minute so new odds need to be offered to reflect what's going on.  Since moving over to online almost exclusively, I now find I place over half my bets in play., prior to 2010 I placed all bets pre-event.
Watching live betting really gets the heart pumping, especially if there's live streaming alongside when you can actually see the event you're gambling on, and perhaps get a better feel for the way the game is going. Failing that there'll be the special grids and graphics that show you where the action is in the game and flag up notable events (goals, cards, free kicks etc) and your heart will be in your mouth when your selection is on a "dangerous attack".
Another advantage with live betting is that it gives you the chance to rescue your bets. If you've gone for Liverpool to beat Arsenal but they are losing the game, you can always bet on Arsenal in some way to try and get your money back or even make a profit. That option just wasn't there in the past.
There are so many different markets today, particularly in football matches; if your first goalscorer bet goes down then you can try your luck on the next goalscorer market. Also if your correct score bet becomes a loser you can place another bet during the game.
Live betting is no different from standard betting, the only thing to note is that the action feed (either streaming or graphics) is up to 30 seconds behind the actual action.  You can see this if you watch a match on TV at the same time as watching the in play graphics.
Bets are also not instant, there will be a delay (10 seconds maybe) between you pressing the "bet" button on the betslip and the live bet being placed.  Therefore live betting isn't 100% live, but is as close as it can possibly be.
Markets in play are also often suspended during major incidents in a game or event.  This is designed to prevent opportunistic betting, for example, people waiting until a dangerous free kick is awarded before they bet on the next goal, so don't rely on it to always be available and give yourself enough time to place your wagers.
Live Football Betting
To see just how live betting works let's take a deeper look at football, since this is the sport with by far the most in play opportunities.  I've seen betting sites with over 200 different live betting lines on a single high profile footy match.
As an example of how in play markets move let's create a hypothetical game; Manchester City are at home to West Ham.  The game begins, City are 1/4 to win the game, the draw 12/5, and West Ham 6/1. Those odds won't stay the same for very long, everything depends on how the game progresses, second by second.
If City gets an early goal then their odds will shorten to something like 1/16, if you've backed them to win then you'll be really happy.
If after 10 minutes there's no score Manchester City will be available at slightly better odds, perhaps 2/7, so if you still think they're going to win then take those better odds. The odds on the draw will shorten and the odds on West Ham winning lengthen slightly. It all depends on the action that's taking place live.
The longer the game stays goalless those odds will keep changing and favouring the game ending in a stalemate. If the score is still level in the second half, you'll eventually get to the situation where the original odds-on favourites will be odds against (i.e. 11/10) and the draw will be odds on (i.e. 10/11). Remember, you can place bets when you want so you can just keep doing that in a way that reflects how you think the game is going to end.
It's not all about the end result of a game though. You can bet on what the score will be at half time or at certain periods in the game. 10Bet have introduced 'Fast Markets' (other bookies have similar sections) where you can bet on a specific event happening in the next minute or the next five minutes of play. That really creates a game within a game as you bet on whether there'll be a goal scored or if a team gets a corner. Other bets can be laid on the score after a certain time period, say 60 minutes.
The odds on the correct score will continually fluctuate, as will other bets such as whether there'll be under or over a certain number of goals scored, who'll score the next goal, and handicap betting.
In Play Tennis
There are always plenty of tennis matches to place bets on and live betting is available on all them. The odds available will change after every point that's played because of the nature of the game.  Streaming is available pretty much as standard from all major sites too so make sure you take advantage of that service.
How each game progresses will affect the odds; they may change to reflect a player holding their serve or being in danger of losing it, even the possibility of a break of serve will cause odds to greatly fluctuate, particularly in a deciding set.
A player who's favourite to win a match will see their odds shorten when they get that first crucial break of serve. Their odds will lengthen if they are the ones to be broken. You can use this to your advantage. If the favourite gets off to a slow start and suffers an early break, they'll be available at a better price than at the start of the match.  Bet now if you still believe that they'll get a win.
Women's tennis sees a lot more breaks of serve than in the men's game so odds really can fluctuate in these fixtures. Odds on the set score, who'll win the next game, and will the next game go to deuce are also available.
Live Betting On Horse Racing
Twenty years ago you couldn't imagine betting on a live football game let alone a live horse race.  Technology has now advanced so much that some of the very biggest bookies, such as Betfair who pioneered it, allow you to bet on the horses once the race has started.
Now this isn't necessarily always available, you will only find this for major racing (most UK and Irish races).  The length of the race also matters.  If it is a 5 furlong dash then there is frankly no time to bet in play, if it is a 3 mile chase however then live betting may be available for a couple of minutes or more.
The odds, as with all live markets, are calculated by algorithms, and while in play markets are offered for a fair proportion of the race it will not run all the way until the finish.  The further into the race you go the more likely the live market will be suspended.  Likewise, if there is a clear leading pack early on then the market may get suspended earlier than if the whole pack stays tight.
The same bookies that provide live racing bets will generally also allow live cash out on the races.
How to Place Live Bets
Live betting has become a major part of the gambling industry, so finding somewhere to place a bet isn't a problem at all. Most sites feature the main in play markets in the centre of the home screen, and at the very most you will be one click away from the in play section.
With so many events now available for live betting you can often plan your bets in advance by looking at the schedule. This will also tell you if things like live streaming or cash out are available on those markets.
Some sites even let you select your own live events into your own console, this removes the need for endless scrolling to find markets.
One piece of advice would be to make sure you don't wait until the very last second to bet.  Remember, there is a delay and markets are often suspended during critical plays.  Also, if betting on mobile give yourself extra time, especially on a slow mobile network connection where load times can be higher.
Finally if you are going to a sporting event then don't just assume you will be able to bet in play.  Local mobile data masts get over-loaded during big events and this can prevent you from accessing your favourite bookie's website or app.
Best In Play Betting Sites
Online sites know now that they need to have plenty of live betting in order to attract customers. It makes sense really, if you don't have live action to bet on you'll probably just log on, place some bets on events taking place later that day and then leave. With live betting you have every reason to stay on the site and keep placing bets.
Of the sites we have reviewed, there are many that really excel when it comes to live betting. Ladbrokes for example, have the most live betting opportunities being offered at all times of the day. Whether it's football, tennis, basketball or baseball, you're always going to have something to try your luck on.
The same applies to other 'bigger' sites such as Coral, William Hill, Bet365, Betfair and Betfred where there's plenty on offer. So much, in fact, they offer you a multi-view option so you can follow several matches at the same time – now that can really get your heart racing.
Betway are also guaranteed to give fans of live betting a fantastic experience with more enhanced odds during the game than any other bookie.
Live Betting Tips
Maintain Concentration
You need to concentrate a great deal when betting during games. The odds will constantly be changing so make sure you always know what the exact odds are and what you are betting on. If odds change before you manage to hit the 'place bet' button, you will have to confirm that you have seen and accepted this change.
Know the Rules
It's important to fully understand the sport you're betting on. Remember that match results in a lot of sports exclude extra time. There are bets in sports such as basketball and ice-hockey that exclude or include over-time. Make sure you put the right bet on or it could end up being a costly mistake.
Search for Value
Look for value in all the odds available. Once a football team gets the lead they might become unbackable as a win bet. Look at markets such as the number of goals scored and handicaps, there could be some value there.
Learn from Mistakes
Learn from your mistakes. Just because a team takes an early lead, don't be fooled into taking ridiculously short odds thinking it is a guaranteed win. Just imagine what the odds would have been on AC Milan when 3-0 up during the famous Champions League final against Liverpool in 2005.  Imagine backing Milan odds on at half time for them to go on and draw the game 3-3 in 90 minutes.
Notes on Cash Out
You don't have to wait until the final whistle to end your bet. The introduction of cash out makes live betting even more exciting. Let's say you have a bet on Manchester City to beat West Ham, the cash out figure will be available throughout the game and, like the odds, will continually fluctuate.
The longer the game continues with the scores being level, the more the cash out figure for City to win will continue to fall. Eventually, you may decide it's worthwhile cashing out to ensure you get some return on your bet if the game does end in either a draw or a West Ham win.
If City takes the lead, then the cash out figure will increase and you could end up being able to cash out and make a profit on your bet. It won't be as much as if you waited until the end of the game but if you think West Ham might equalise then it's a worthwhile decision to make.
There will be times when you cash out while your team is winning and they go on to win. There may also be times when you cash out and that equaliser does come along. This is just the way it goes, you won't get it right every time.
Do not always assume that cash out will be available.  Applicable markets will have some sort of symbol next to them if cash out is an option.  Even if you do back a cash out market do not assume it will be available from kick off until the final whistle.  Just like the in play markets themselves, cash out can be suspended temporarily or permanently.  It is best to treat cash out as a useful tool rather than setting your heart on using it.