If you are new to online betting, it might come as a bit of a surprise when the website you have signed up to suddenly asks to see your passport or driving licence.
All sorts of questions and concerns about scams and identity theft might be running through your mind, and it's a good thing that you are cautious, but in this instance you have absolutely nothing to worry about.
All online gambling companies are legally obliged to verify each and every one of their customers before they are allowed to make a single bet, so in actual fact it is a positive sign that you are being asked for this information because it means that the website you are using is operating within the law.
Why Do Bookies & Casinos Have to Verify You?
In the main the verification checks have been put in place to stop:
Underage gambling
Gambling addiction
Money laundering
Up until midway through 2019, anyone could sign up to a gambling website and deposit with no real checks in place at the initial stages. If customers wanted to withdraw money then they would need to verify their identity at that point, but this left the door open for underage gamblers to access content that they should not have been able to, as well as other vulnerable people.
The UK Gambling Commission therefore brought in new rules to get customers verified more quickly, ensuring that no one could gain access to gambling products unless the operator in question knew that they were legally allowed to do so. This even includes gambling websites allowing access to their games as demos.
These checks will also flag up anyone who is known to have a gambling problem and has signed up to GAMSTOP, which all licenced operators in the UK also have to be signed up with. Previously, self-excluding from one site would not necessarily stop you from being able to gamble at another – this no longer has to be the case.
Lastly, the checks help to prevent crime. Previously, money gained from criminal activities could be laundered using online gambling websites, but with these new regulations it becomes much harder for them to do that.
How Do I Verify Myself with a Bookmaker or Casino?
It's a bit of a pain we know, but it's just one of those things you have to do, so if you think you are going to be signing up to a few different bookies or casinos then it's a good idea to have a scan or photograph of some identification on your computer so that you can upload it nice and quickly.
The sort of I.D that will be required includes:
Driving licence or passport as photo ID
Utility bill of some kind to prove your address
An image of your bank card or statement to prove your financial identity
The process of verification is simple enough, although it might take a little while to complete so you might not be able to start playing and betting straight away.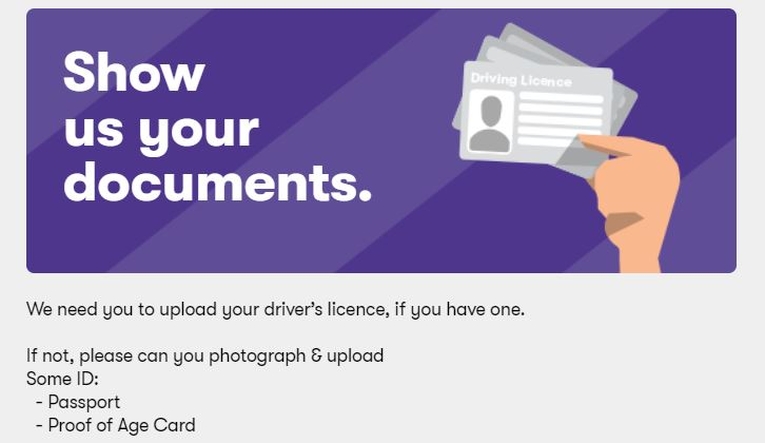 Either at the registration stage or when you try to make your first deposit, you will be prompted to verify your identity. If this does not happen, go to your account and the option to verify should be in there.
The console that pops up will take you through it stage by stage, and will allow you to upload photographs from your computer.
The verification team will then get to work checking your details and making sure you are over 18, not a problem gambler, and aren't triggering any red flags with regards to criminal activity. They may also perform a soft credit check but this will not show up on your credit record.
It can all be done and dusted within a few hours if your bookie or casino has a team dedicated to this sort of thing, but it shouldn't take longer than 24 hours in most cases.
However long it takes, you will be sent an e-mail to let you know that the verification process has been completed, and from that point on you are free to gamble (responsibly) to your hearts content.
What if Verification is Rejected?
If this happens the company should be able to give you a reason, but it usually comes down to something fairly simple like human error.
If you have abbreviated your name, forgotten to include a house number, or the image of your ID is a little dark or unclear these could all be reasons why verification has failed.
Be mindful too that if you are living in temporary accommodation you might run into problems. Students living in halls of residence or members of the military using their barracks as an address, for example, might flag up as they are legally registered at a different address.
Of course, no bookie has to accept your custom, so by rights they could refuse you for no reason whatsoever. This is highly unusual though, and if it happens to you and you genuinely can't figure out why then contact the support team to clear it up.