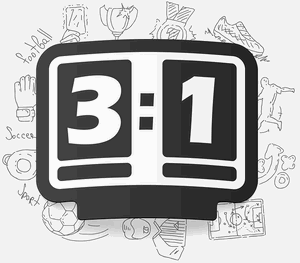 Sometimes it's just too difficult to predict who is going to win the big match. Luckily, there are a number of bets which don't require you to select the overall winner, and one such bet is 'Both Teams To Score.' Here, you are given the options 'yes' or 'no' so it's a bet that is not impacted at all by win-lose-draw, only by goals.
So just what is a 'Both Teams To Score' bet? A breath of fresh air in the sometimes confusing world of gambling, this bet does exactly what it says on the tin. Your simple task is to answer the question 'will both teams score?'  If you go for 'yes' and both sides score, then whatever the final result happens to be you win your bet. Alternatively, you could answer 'no' and hope that only one or neither of the teams score. BTTS (the industry loves an acronym) is most commonly found in football betting but can also be seen in other sports such as ice hockey.
Why choose BTTS?
The most obvious reason to go for this sort of bet is when there just isn't a clear favourite in a fixture and so the odds are all rubbish. There are plenty of others, though.
One advantage is that the bet could retain your interest right down to the last kick of the game. For example, if you have a BTTS bet on Liverpool vs Swansea City and it's 4-0 to the Reds deep into second-half injury time, even though the game is over as far as the winner is concerned you would still have an interest because a late goal from Swansea, while useless to them, would mean everything to you as your bet would be won.
In complete contrast to that, your bet could also come in after 5 minutes if both teams manage to hit the back of the net early, in which case your bet is won and you can either sit back and enjoy your winnings or put them to use elsewhere.
It's also a bet that doesn't require too much work. You can do some research but it shouldn't take you long to find what you need to make a decision. It is also easier to bag a winner as the bet isn't very specific, although that, of course, comes with lower odds.
This sort of bet might well appeal to punters who are newer to sports betting or who are more cautious in nature since it is not an intimidating wager to place and is easy to get your head around.
How often do Both Teams Score?
There are plenty of statistics available online providing information on which teams to follow when considering a BTTS bet. Figures show that for most teams around the world 40-50% of their games will see both teams score, which provides plenty of scope for the punter.
In the 2016/17 season Chelsea certainly proved profitable when playing at home – not to win but for both teams to score. At one stage in the season there were eight consecutive home league games where both sides managed to score.
In the 2015/16 Premier League 25 out of 38 league games played by West Ham saw both teams score, just one ahead of Chelsea. Ten out of 20 teams in the division played at least 20 games in which both teams scored. The lowest figure was for Manchester United thanks to all those bore draws passing the ball sideways. Even so, 14 of their 38 games saw both teams score.
Ten teams in La Liga played at least 20 games where both teams found the back of the net and in the English Championship 16 out of 24 teams saw both teams score in at least half their games with a massive 72% figure for Fulham. The lowest percentage was 35% by champions Middlesbrough who only had six home games out of 23 with both teams scoring.
As you can see, it is certainly not an infrequent occurrence, and some teams are more prone to scoring and conceding than others, so if you know who those teams are then you could be onto a winner.
Below is a table with some data from the 2017/18 Premier League season to emphasize the point:
| Team | Matches Played | BTTS Games | BTTS % | Home % | Away % |
| --- | --- | --- | --- | --- | --- |
| Leicester City | 38 | 24 | 63% | 53% | 74% |
| AFC Bournemouth | 38 | 22 | 58% | 63% | 53% |
| West Ham Utd | 38 | 22 | 58% | 53% | 64% |
| Stoke City | 38 | 22 | 58% | 58% | 58% |
| Southampton FC | 38 | 21 | 55% | 58% | 53% |
| Arsenal | 38 | 21 | 55% | 47% | 63% |
| Manchester City | 38 | 20 | 53% | 58% | 47% |
| Everton | 38 | 20 | 53% | 47% | 58% |
| Crystal Palace | 38 | 19 | 50% | 58% | 42% |
| West Brom | 38 | 19 | 50% | 63% | 37% |
| Tottenham Hotspur | 38 | 19 | 50% | 47% | 53% |
| Liverpool FC | 38 | 18 | 47% | 37% | 58% |
| Watford FC | 38 | 18 | 47% | 63% | 32% |
| Burnley FC | 38 | 17 | 45% | 42% | 47% |
| Chelsea FC | 38 | 17 | 45% | 37% | 53% |
| Newcastle United | 38 | 16 | 42% | 32% | 53% |
| Brighton & Hove Albion | 38 | 16 | 42% | 58% | 26% |
| Swansea City | 38 | 15 | 39% | 37% | 42% |
| Manchester United | 38 | 14 | 37% | 32% | 42% |
| Huddersfield Town | 38 | 12 | 32% | 37% | 26% |
Both Teams to Score Betting Strategy
If you're going to be betting on both teams to score then you do need to carry out a bit of research to give yourself the best chance. The odds on this bet are never going to be large because it is so broad, but the odds can at times be very short indeed. With the short priced odds, it's best to use a coupon and make a few selections to add some real value.
If you are specifically hunting for good BTTS opportunities, then actually the Southern League South is the best hunting ground in this country, with both teams scoring around 65% of the time. If you venture further afield to the Super League in Switzerland or the UAE League in the United Arab Emirates, however, that number climbs to over 70%.
Stats to Consider
If your aim is to place a bet on both teams to score then you need to be looking at their recent results. This isn't a bet that is all about teams scoring lots of goals, it's also important that you consider the defensive qualities of the teams playing.
Say you want to place a bet on a home game for Manchester City against Liverpool; you need to take a look at the form that both the sides are in. Wins and losses aren't the most important aspect here because remember this bet isn't about who'll be victorious or defeated at the end of the game. You need to look at whether Manchester City have been scoring consistently at home, but also whether they are conceding too. This will influence which way you go with your bet.
However, there is also Liverpool to consider. Are they in good form and scoring on a consistent basis? What's their away record like? Do they score regularly on the road and concede too?  The information you discover will help you work out whether to go for the both teams to score bet.
You will also want to know that both teams are at full strength up front, whereas a few injured first team defensive players could well aid your cause.
Yes or No?
If both teams have been regularly scoring in home and away games, then this is a good sign for a 'yes' bet. If you can see that even lower ranking teams are regularly putting one away against Man City at home (even if City won 5-1 in the end) then a BTTS bet would be a very good strategy against Liverpool.
Equally, if you look at the two sides history over the last couple of seasons, this should shed some light on whether or not their playing styles result in goals when they go head to head.
If the records show that City have kept a number of clean sheets recently then a bet on both teams to score might not be advisable. If Liverpool have been struggling for goals over the last few games they are definitely pointing you towards a 'no' bet.
Matches between teams that are scoring lots of goals and have poor defensive records, however, shouldn't have you going anywhere near betting on a 'no'.
Summary
Just remember this is a bet that is dependent on both teams. One may well be shipping goals on a regular basis but if their opponents couldn't score from two yards then a bet on both teams to score might not be a good idea. Ideally you want both teams to have a goal machine at the front but also a leaky defence.
If Man City regularly concede at home but Liverpool rarely score away, then you have yourself a conundrum.
Other Related Bet Types
BTTS is a nice simple bet when used on its own, requiring a little bit of research but nothing too heavy. However, there are a few ways to make the bet more complex and also more rewarding.
BTTS in Both Halves – This is self-explanatory really; you need both teams to score at least one goal in both halves of the match. You will usually find the odds are much higher here and that is because it's much less likely to happen. However, if you do find a likely candidate you could be quids in if you go for it. You can also bet on just the first half or just the second half.
BTTS plus result – This is still fairly simple, it just adds another line to your bet which lessens your chances of winning and in turn ups the odds. You need to select a 'yes' or 'no' BTTS bet as usual, as well as correctly predicting the result of the game but not the score itself. Often the options will be: Yes and Home Win, Yes and Away Win, Yes and Draw; No and Home Win, No and Away Win, and No and Draw. Although this isn't always the case.
BTTS plus O/U – This is a little more complicated because you will need to correctly predict the BTTS bet, but also an Over/Under (O/U) bet. So, if the O/U is set at 2.5 you will need to choose whether you think the total number of goals scored in the match will be over or under that number. If you went for a 'yes' on BTTS and under 2.5 goals, and the final score was 2-1, you lose because although both teams scored the total number of goals (3) was over 2.5.
Common Rules and Terms
It may look a simple bet but there are some rules you need to consider. If a game is abandoned then that is void. If you've put a bet on that includes a number of games, the remaining games that weren't abandoned are the only ones that remain valid. It would be sod's law if both teams score in a game and then the floodlights went out!
With fixed odds coupons (9/2 for three correct selections, for example) if one becomes invalid then this affects the odds for the bet. It could be 6/4 if your bet suddenly becomes a double and if two games get abandoned then you'd be left with just a single and odds could be as short as 4/7.
Remember that all bets are settled over 90 minutes plus injury time. If it's a European tie for example and a side wins 1-0 in 90 minutes causing extra time, your bet on both teams to score is lost, so whatever happens in extra time is of no consequence whatsoever.
Conclusion
This has become one of the most popular bets in recent years. No need to tell the bookies who you think will win the match (unless you're really going for it and placing a bet on 'winner and both teams to score). Just decide whether both teams will score or not and hopefully count the profits.
As is always the case with coupons, don't opt for too many games. The odds only keep getting higher because the chances of you winning are getting smaller. Try and find a happy medium.