Sky Review - Not Recommended
Sadly Sky Bet and Sky Veagas have decided they do not want promotion or independent reviews from outside their own network.
We are therefore unable to recommend Sky Bet or any other Sky brands to our customers.  Any reviews you do read online will now be from within Sky's own network and therefore cannot be independent.  The review below is no longer updated.
For a list of sites and offers we do recommend see our home page.
There's so much more to Sky than watching endless repeats of The Simpsons or Jeff Stelling getting excited (or depressed) about the fortunes of Hartlepool.  As well as their TV programming, Sky offer an excellent online betting site that provides its customers with plenty of opportunities to win some cash.
One of the best betting sites in the world for football and horse racing betting, especially for matches shown on Sky.  With a hugely valuable weekly free bet club and regular offers such as 'money back if your horse loses' this is a seriously good bookie to place your big event wager with.
SkyBet is just one of many gambling products from the Sky Betting and Gaming arm of Sky Plc, Sky Vegas is a Slot focussed Casino that can boast quicker than average withdrawal times and a host of exclusive titles. Sky Casino and Sky Live Casino take care of the more traditional casino games for the most part, but Sky Vegas still has plenty to offer.
Although now affiliated with Sky in name only, this association no doubt still carries weight for players when it comes to deciding where to play. That is, if they aren't put off by the fact that Sky was founded by he who shall remain nameless – it rhymes with Dichard Durdock…
Casino Software, Platform, Games
Before we get into the nitty gritty, it's worth pointing out that as well as Sky Vegas, other products like Sky Casino, Sky Live Casino, Sky Poker and Sky Bingo are also available. These are all their own beasts and the display and interface is specific to each. We are going to stick with Sky Vegas here, which is an instant play Casino with no download required.
The look and feel at Sky Vegas, then, is appropriately rather more jazzy and ostentatious than Sky's other offerings; colours pop, neon lights glow and game tiles react if you roll over them. The atmosphere is infused with fun and players are encouraged to party and let themselves go – this is Vegas, after all.
When it comes to navigation, the site operates from the top down; so one selection informs the next. It's all pretty logical and at any point you can jump to another Sky product (Sky Poker for example) or narrow down your search within Sky Vegas itself. Games can be broken up into Slots, Jackpots, Top 30, Instant Win, Exclusives etc, but there are no game genre or developer options. However, since there are only around 330 games in total this doesn't really become an issue.
The games themselves come from a few providers which we are sure you will recognise, such as IGT, Barcrest, NetEnt and Novomatic, but there are others available at Sky Casino from Playtech and the like with an altogether different vibe. Almost 40 of the games are exclusive titles that can't be played elsewhere, and many of these come from CORE Gaming which operate as part of the Sky Betting and Gaming Group. The titles in the collection complement each other well and have been chosen specially so as not to stray too far from the site's Vegas theme.
Slots – Fancy a scare? Ooh Aah Dracula. Military buff? Cash Commander. Or, if you like trash TV you may be pleased to see Sean Kelly's Storage Auctions. Just three of the 250ish Slots on display.
Jackpots – The thrill of a big win is never far away with over 50 Jackpots waiting to be won. They don't quite meet the dizzying heights of the multi-millions, but there are some good options none-the-less.
Live Games – Unavailable at Sky Vegas, but head to Sky Live Casino for Roulette, Blackjack, Baccarat, Casino Hold Em and a Hi-Lo game, all played face to face with a real live dealer.
Roulette – Not exactly spoiling us for choice here, but Lucky Star and the exclusive Sky Roulette are two of the 9 options.
Blackjack – Blackjack fans fare even worse with only 6 games to tempt them. Another exclusive in Sky Blackjack awaits, along with Deal or No Deal Blackjack.
Table Games – If Table Games are your guilty pleasure you would be better off going to Sky Casino. Here, there are two 3 Card Brag games, a couple of Video Poker variations and that's about it.
Instant Win – So you only have 5 minutes to spare before a meeting and want a quick flutter? Try your luck with one of the 42 Instant Win games like Pan For Gold or Golden Balls.
Banking
There are numerous ways in which you can make deposits into your Skybet account. You can use Visa debit/Electron, Mastercard, Solo or Maestro. To put money into your account, simply click on the 'Deposit Funds' link in the top left-hand corner of the screen, it's as easy as that.
If you're making a withdrawal to your bank then the funds should be in your account within two to five days. A withdrawal to an e-wallet (Paypal for example) will be there the same day.  Everything is fully secure at Sky Bet so no worries at all of anything going wrong. If you do have any queries there's plenty of help available on the site.
Markets and Odds
There's no shortage of markets to gamble on at Sky Bet. Whether it's the middle of the night, the afternoon or  the evening you'll find that there's plenty going on here with events covered all over the globe. That's a fact that is evident right from the moment you go to the site.
It's not all about deciding who's going to win, draw or lose of course. Sky Bet offer you lots of markets and there's bound to be something that you'll be interested in placing a bet on. Take Formula 1 for example, it's been dominated by Hamilton for the past few years and he always has short odds. Instead of trying to get the winner at a short price go for something like match betting between other drivers. They probably won't be fighting out the finish but you'll have a race of your very own to keep tabs on and hopefully get a winner.
Bets that might not be the first to come into your head include:
Betting on whether Jon Snow will sit on the Iron Throne in series six of 'Game of Thrones.'
Will the SNP win all the seats in Scotland at the Next General Election?
Bets like that are fun to place and follow but they can get you some decent profits too. There are lots more like that at Sky Bet so have some fun while winning pots of cash.
Sky Bet also specialise in ante-post betting for all sports so if you think Leicester can retain their Premier League title next season then have a bet now.
The odds available are of course extremely important. Those that Sky Bet have on offer are pretty good especially the Best Odds Guaranteed offer and the Price Boost.
Live Betting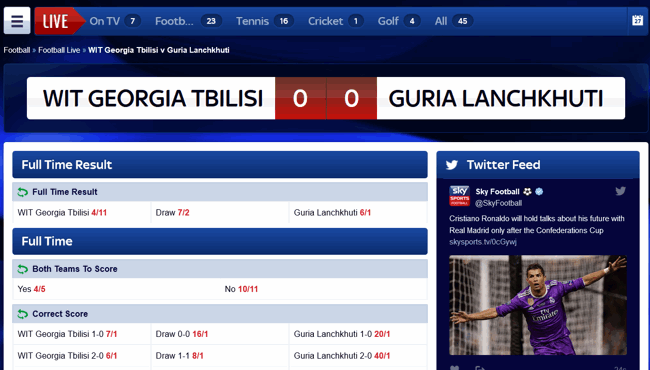 As soon as you log onto the site you'll see the list of live events being covered right that moment. On a busy day the number of events being covered live easily make it into three figures. They really excel at sports such as football, tennis, golf and basketball among many others.
With football Sky Bet offer live betting with plenty of markets available on all the top games. Then there are lots more covered from around the globe. Whether it's a league game in Poland or a youth match in Sweden the chances are there will be live odds available on the game. The names might not be familiar to you but with a bit of research you can arm yourself with a few vital facts and make your selection.
Tennis matches from around the world are covered, not just the top players but the lesser tournaments too. There's great live coverage of golf tournaments on both sides of the Atlantic. Basketball fans can follow live coverage of European games during the day and then action from the States in the evening and early hours of the morning. Lots of betting opportunities there with the odds continually fluctuating.
Live Streaming
Betting on live games is always exciting and it's even better if you can see some live action too. Horse racing fans can see live racing from the UK and Ireland if betting £1 on the upcoming race. Handy if you haven't got a subscription to Racing UK or At the Races.
When it comes to other sports there is the ability to watch games that are being covered by Sky Sports or BT Sports live as long as you're a customer of that service.  Sky aren't really going to be giving away their exclusive coverage to non Sky customers. Other games have the graphic that shows you where the ball is on the pitch and whether an attack is taking place for either side. That always gets my heart beating a bit faster especially if it's my selection hopefully about to score a goal.
You can also listen to audio commentaries on the site so that's a really useful way of keeping up with what's happening particularly with horse and greyhound racing.
Sky Bet Promotions
The site has plenty of regular promotions that offer customers lots of free bets, enhanced prices and special offers when there are major events taking place.
Sky Bet Club
How about starting each and every week with a free £5 bet winging its way into your account. Well that's what's on offer in the Sky Bet Club. To qualify you have to place a total of £25 in bets (one or several bets, evens+) between Monday 00.01am and Sunday 11.59pm.
Those bets do have a restriction on them though and they have to be on any sporting event with odds of better than evens. Once the requirement is fulfilled you'll have that £5 free bet in your account on Monday.  If you miss out on a week you can start again the next week to get the £5 free bet with the same £25 requirement.
Sky Bet Tracker
This is Sky Bet's Cash Out facility. No need to wait until the end of the football game or even the horse race to get a return from your bet. This is available on selected football games and horse races. You simply have to look for the Sky Bet Tracker icon and if it's next to the game/race you're interested in then away you go.
There are in-play statistics available and they can really help you when trying to work out whether or not to cash out your bet. Always a difficult choice deciding what to do but it really does add something to your bet and can provide better results if your luck is in.
Football
As well as the Sky Tracker promotion there are always some excellent enhanced prices available. Look out for the Price Boost offers that are always on offer when there's a live game, especially one being covered by Sky Sports.
These offers can be on everything from the result of the game to goal scorers and can definitely give you some good profits if you make some correct choices.
Horse Racing
Again there are Price Boosts available on key horse races each and every day of the week.  Enhanced prices aren't just available on individual horses but Sky Bet also come up with enhanced accumulators that could pay off for you at great prices.  Also go for the Cash Out facility via their Sky Bet Tracker which certainly makes betting on  horse racing on this site even more exciting.
There are also Best Odds Guaranteed on all UK and Irish horse racing. No more huffing and puffing when you take a price in the morning and then see your selection go on to win but at a higher price. Sky Bet will pay you out at that higher price.
For big ITV racing events every Saturday and at other times you can get money back if your horse is second, sometimes 2nd and 3rd, sometimes 2nd, 3rd and 4th and for the biggest races money back if you lose.
Statistics

With so much sport covered on the site you'll need a bit of help especially with the less familiar sports and teams.  There are some free betting tips so a quick look at that page might just get you some good wins. This includes daily racing tips from Alex Hammond and other expert views from Sir Ian Botham, Jamie Redknapp and Johnny Herbert.
Horse racing fans will really be keen to access the racing form pages and there's a quick link to the Sky Sports website so you can keep up to date with live scores and results. If you have trouble working out just how much your latest bet is going to win, there's a betting calculator available on the site.
Desktop Site
This really is an action packed site. It has a great design and everything you want to see is superbly presented. It doesn't have a cluttered look to it which is always important. With so much happening, when you do join up, spend a bit of time looking through the site to familiarize yourself with it.
Navigating your way around the Sky Bet site won't cause you any problems at all. Down the left hand side of the screen you'll see easy links to all the sports that they cover. Not just the usual suspects but others such as badminton, Gaelic Games and Handball.  The main sports that most people bet on have their own quick links section at the top of that list. Then it's an A to Z so finding what you want is so easy here.
In the centre of the page you'll see details of the live events that are being covered.  At the top of the page are the latest headline promotions and then at the bottom of the screen forthcoming events.  Horse racing fans will see links to the next three races taking place.
Accessing the details of their many promotions and getting the answers to any questions you have about the site are easily found. The site advises using the latest version of Adobe Flash. For more information just click on the help section and head for the Sky Bet Technical Support section.
Mobile Site
With so much going on at Sky Bet you'll be wanting to play this anytime and anywhere. You can download the Sky Bet App or visit the mobile site for full capability.
With this you can check out all the latest news and of course place your bets. This includes the Sky Bet Tracker so you can keep up with the latest score and cash out if you think that's the best thing to do. It's received some great reviews and that's no big surprise with its excellent interface and finding everything you need isn't a problem at all.
Mobile Casino
If you like to gamble on the go then the good news is you have a couple of options. Sky Vegas and its many counterparts each have a dedicated app as well as mobile internet functionality to allow you to carry a casino in your pocket. The bad news? They are both a bit of a mess.
Neither worked properly for us (and we were using a strong wifi connection) leaving us with graphics that did not display properly on the homepage and a jumpy interface after waiting an age for it to load. Giving them the benefit of the doubt, this may be a temporary issue, but for a company the size of Sky it's not really an excuse. The design would probably be fine if we could see it as it is supposed to look, but unfortunately, we just can't give it much praise after our experience.
If you can bring yourself to work with either product you will find navigation no problem, but the lack of more diverse categorisation options when it comes to browsing games becomes more of an issue on a smaller screen, resulting in a scrolling marathon. A good chunk of the slot games are still on offer, although Roulette and Blackjack are reduced to 3 a piece. Happily, you can easily jump from one offering to another, so if you want to visit the Live Casino for example it is only a click away.
About Sky Bet
As a brand, Sky have been around for nearly 30 years, but it wasn't until 2003 that Sky betting came into existence under the slightly different moniker of Sky Bet Vegas, rebranding to Sky Vegas in 2009; although it didn't stay with Sky for too long.
In 2015 CVC Capital bought an 80% stake in Sky Betting and Gaming (which ran Sky Vegas as well as many of their other gambling products) for £600 million and licensed the brand to avoid too much disruption. However, 2018 saw the company change hands again, this time being sold in its entirety to Stars Group (formerly Amaya Inc) for 3.4 billion – they must have found some cash down the back of the office sofa for that one.
Unusually for an online gambling company, their headquarters are in Leeds, UK as opposed to Malta or Gibraltar, and they are one of the few UK betting companies not to operate any high street betting shops.
Customer Support
You would think that wearing a globally recognisable name tag would inspire nothing but confidence; but delve a little deeper and the waters become a little murky. In general terms support is helpful and readily available: there is a 24/7 Live Chat, Email support, about a thousand twitter accounts and a phone line that is open longer than most people are awake. However, big wins disappearing or not being credited, and retrospective changes in T's and C's have driven away some previously loyal customers to other casino's.
It wouldn't be fair if we didn't make it clear that Sky Vegas did settle these matters eventually and even added in good will gestures by way of an apology, but the events are not isolated and took time to resolve.
We applaud them for their extensive FAQ though, and the Live Chat seems well staffed with reps who are clued up, happy to chat and quick to respond. All in all customer support is solid, but their reputation has been tarred somewhat of late.
Contact Details
Live Chat – It's a bit long winded but it exists. Head to Help & Support, select Contact Us and follow the prompts.
Email – There is no email address forthcoming but using the contact form in the Contact Us section produces the same result. Responses tend to come quickly or not at all, so if you haven't heard back after a day or so then try again.
Phone – 0330 024 4777 is the number to dial, just make sure you use it between 8am and midnight, otherwise no one will answer.
@skyvegas – They have an account for every arm of their empire, and this one covers sports as well as the Casino but is very active and topical; worth keeping an eye on. @skybethelp could also be worth a try.
Address – Bonne Terre Limited, Skybet, 2 Wellington Place, Leds, LS1 4AP
UK Gambling License – 38718
18+, T&Cs apply. begambleaware.org, gamstop.co.uk #ad