Anyone who has ever become a customer of an online bookmaker or used an online casino will be used the banner at the top of the page pointing them in different directions. You'd be forgiven for thinking that there'd be nothing wrong with a company having one link that simply said 'Casino', but that's not the way it works. Normally you'll see that an online casino has numerous different portals, from Vegas to Lotto, Bingo to Games. In fact, you could find yourself with up to ten different options if the online casino operator is so inclined to give you that much choice!
It's entirely fair, therefore, to wonder why. What's the difference between all of the various sections of a website and is there anything you should know about them? How come there are so many different parts of what is essentially the same thing, an online casino? It's not normally necessary to move money from one e-wallet to another in order to play the different games on offer, with the casino itself figuring all of that out for you. Yet that is sometimes where the simplicity ends, so here you'll be able to learn exactly why things are often so convoluted. First things first, though, what are the various options you might encounter?
What Casino Sections Are There
Casino
This is the most obvious and common option available through any online casino and is normally where you'll find all the various types of casino games in a computerised form. Obvious options like blackjack, roulette and three-card poker are mixed in with thousands of variations on slot games. Some operators simply lump all of their games in the same place and label it their 'Casino'.  If there is only one section at a site then it tends to be Casino, if this is the case it will be a one stop shop for everting from tables games and live games to slots and poker.
Live Casino
You'll likely be able to guess from the title what you can find here, with live dealers and croupiers dishing out cards or spinning balls on roulette wheels to offer you live variations on all of the most popular casino games. It's not uncommon for companies to also put Live Casino games in other sections, such as a live roulette with an Asian dealer into the Macau area of their site.  Live games are streamed, you still bet in the same way as you would an electronic game but the game actions themselves are performed by a real person.  Live casino sections often have additional bonuses and incentives for first time users.
Vegas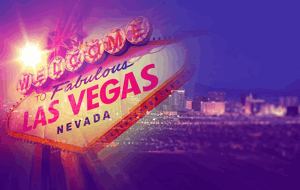 There are essentially four different slot sections to some casinos, mostly split up by the types of games that you can play and the skin that they have applied to them. Vegas-style online casinos attempt to reflect the Mecca of gambling in Nevada.  There isn't anything inherently different between Vegas and Casino, they tend to have all the same types of games and features.  Casinos often separate games from different software companies into 'Vegas' sections to prevent crowding the casino section.
Macau
Another style that an online casino might opt for with their selections is one with a Macau theme. Here you'll find the same sort of games that you'd find in the Vegas section of the site, with the main difference being that the games will have a distinctly more Asian feel to them.  As with Vegas above there is no specific recipe of what goes in these sections.  In general it will be a mix of slots, table games and possibly live games.  There may be additional Asian themed table games.
Slots
Sometimes online casino operators choose to forgo the specific theme to their room altogether and just keep things nice and bland. This is when you'll find a tab saying simply 'Slots' and in there you'll find all of the games that lack a certain look or feel.  Splitting slots away from table and live games is a good idea as the slots section is by far the biggest, representing over 90% of all casino games.
Games
Another common section you might find in an online casino is one labelled 'Games'.  This section is sometimes used as a name for the 'slots' section, although that isn't always true, games sections also have no specific recipe and can contain table, live and other games.  In general this is a slots heavy section and will usually offer games from a different software provider compared to the main casino section.
Bingo
Some casino operators have their own online bingo sections. This is somewhat self-explanatory, with the ability to play bingo through the casino rather than heading to a specific online bingo provider. Depending on whether this is a stand alone casino or a multi-product betting and gaming site, the number of bingo games on offer might be limited when compared to a company that specialises in online bingo, but often you'll find most of the biggest and best-known 90-ball and 75-ball games are in these rooms.
Keno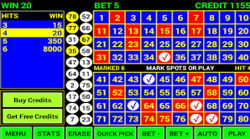 There are subtle differences between bingo and keno as games, so you'll find that some online casinos acknowledge that by putting them into two different rooms. Again, this is a self-explanatory option for your gaming needs and some of you will be keener to play this rather than bingo.
Poker
Poker is one of the most popular card games in the world, so online casinos can hardly be blamed for wanting a piece of the action. Whether it's online tournaments or individual poker rooms where you can take people on at any time of day or not, this is the section that you'll want to head to if you're a fan of the game. Expect to find numerous variations on a theme, from Texas Hold'em through to Omaha and everything in between.  It is very common these days to find Poker absorbed into other sections.
Lotto
The lottery remains as popular a game now as it was when it was first invented, so online casinos will often run their own lotto section that you can play whenever you feel like it.  Various lotto formats are available including very regualr draws by the minute up to those by the day or week.  Of course the longer the time between draws the higher the prize tends to be. Different from both bingo and keno, Lotto areas will also sometimes also contain scratch card type games that are fast and easy.
Why Separate Out Casino Games?
There are three main reasons why a casino operator might choose to separate everything out rather than have it all under one roof. The first is somewhat obvious: simplicity. Players who use online casinos don't want to have to root around the place to find what they're looking for, so splitting it all up into different sections makes life an awful lot easier!
The second reason is that some casino operators use different providers to supply their games. You might use a company that has slot games provided by Playtech, for example, whilst their Live Casino is the responsibility of Evolution Gaming. By splitting them up it makes it easier for both punters and the casino operator themselves to know who's responsible for what.
The final reason that online casinos might split up their offerings is to give customers different offers for each. Let's say that you open a new account with a company and they give you a new customer offer of £100 in free bets, you might be able to select which part of the casino you use that in. It's unlikely you'll be able to swap it from one to another, but a rival company might offer you £100 in Live Casino gaming and an additional £100 for their bingo. Keeping them separate allows them to do that, which you benefit from.