From the days of the Ancient Greeks there has been a desire to watch people fight each other, in those days under the guise of a sport called pankration. That offered a mix of grappling and striking that fans of the mixed martial arts used today would recognise.
The full-contact sport of the modern era is really a 20th century invention, in spite of the fact that its origins can be traced so far back. The title of the sport tells you everything that you need to know, given that it uses things found in numerous different martial arts disciplines to create an overall sport that can be thrilling to watch.
The reason we've put it together with the Ultimate Fighting Championship for this page is that the UFC is arguably the most popular variation of MMA, having been created in 1993 and gone on to become a global powerhouse in the years that have followed.
Don't let that blind you to the world of mixed martial arts, however, with many bookmakers covering other competitions in the genre. We'll be looking at it as one big thing here, but we'll focus on UFC as its own thing owing to the company's place in the world of MMA. After all, the very best fighters in the business compete for the UFC, so it would be folly not to give it the respect it deserves.
Best Bookie For UFC and MMA Betting
Most betting sites will cover the major UFC fights as well as some other MMA events, but you are unlikely to find coverage of other fights, especially ante-post.
Paddy Power have made a name for themselves as a site that cover a wide variety of sports and have some of the best depth of coverage for UFC and MMA.  They also run offers for fights, which is not very common elsewhere.
Anyone betting on mixed martial arts on more than a casual basis will find the markets at Paddy Power ideal.
T&Cs Apply, 18+, begambleaware.org, gamstop.co.uk #ad
How To Bet On MMA Events
There are a number of ways to bet on MMA: bet ante-post on the winner of a tournament or match, bet when a fighter will win, which means the round that the match will be won in, bet on the method of victory.
Different bookmakers will offer you different things that you can bet on, so it's always worth looking to see if they offer something unique that you might not get from another bookie.
The above is the main list of likely bets you'll see, however. Much of the fun comes in watching the fight play out and seeing if your bet comes off. It's also worth noting that in-play betting is popular with MMA.
The History of Mixed Martial Arts
Pankration was a sport in Ancient Greece that used a combination of striking and grappling that many MMA fans would recognise. It was essentially a mixture of boxing and wrestling, both of which were popular at the time to such an extent that the sport featured in the 33rd Olympiad.
Only biting and gouging were banned, with most other forms of grappling and holding permissible in the rules. It was one of the most popular forms of athletics at the time, so it's little surprise that it was later passed on to the Romans.
In Ancient China, meanwhile, a sport called Leitai was popular and bore its own similarities to pankration. It was a sport that combined wrestling with boxing and Chinese martial arts. Similar such events were also taking place in India, Egypt and Japan at the time, showing that a desire to see people take each other on in combat was very much evident.
It also shows that the exact origins of what we know of today as mixed martial arts are hard to trace. What we can say is that by the 19th century a new variation on this ancient tradition had begun to emerge in the form of a sport called savate.
Modern Day Sports Reflect MMA Traditions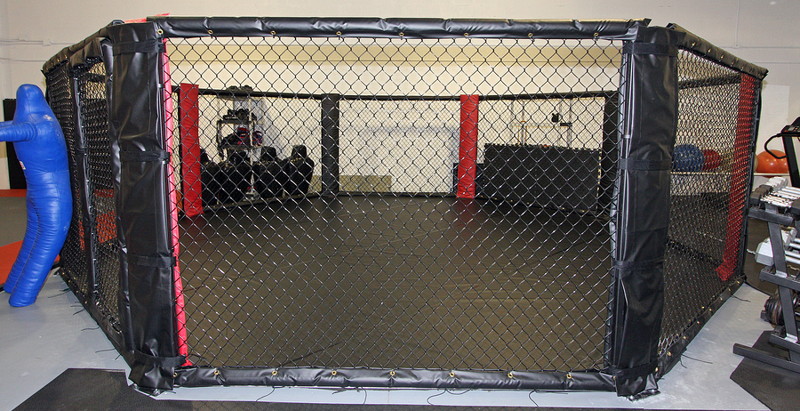 Savate, also known as French boxing, still exists today but began to take shape in in the early part of the 19th century when it was essentially a form of street fighting. The savate fighters wanted to test themselves against other disciplines and so went up against the bare-knuckle boxers of England to see who was best.
During the rest of the 19th and into the 20th centuries they competed with fighters from other disciplines such as judo fighters and professional boxers, blurring the lines between the different styles of fighting.
The type of fighting that can be best described as taking place during the end of the 19th century and start of the 20th is 'no-holds-barred', with the fighters not following any specific set of rules that had existed before. One of the most high-profile such events took place in 1887 when the heavyweight world boxing champion of the day, John L. Sullivan, went up against his trainer and former wrestling champion William Muldoon.
Similar such fights took place throughout the early part of the century as fighters from various disciplines wanted to know how they'd get on against those that had spent their lives fighting a different genre.
Martial Arts In The World Of MMA
Whilst it's certainly true that MMA fighters use skills from various martial arts disciplines, it's slightly misleading to call the sport mixed martial arts on account of the fact that MMA uses techniques that are more commonly associated with the likes of catch wrestling and boxing. That being said, there is certainly an extent to which the worlds of jujutsu and judo come into play for MMA fighters when they're going up against each other.
It's also entirely fair to point out that how we define a 'martial art' may come into play here. In the 1920s, for example, a sport called Sambo was developed in Russia as a combination of wresting and judo and MMA owes something to it.
The term 'martial art' is nowadays linked to East Asia and China and Japan in particular, whilst in reality it was originally more to do with the way that fighters combatted each other in Europe. There are many who believe that a more appropriate term would be something like 'fighting arts', on account of the fact that most of the disciplines used in martial arts were never created by warriors and therefore 'martial' in nature.
Martial arts tend to be split into different categories, such as grappling, striking, stand-up fighting and ground fighting, of which most can apply to the world of MMA.
MMA In The Modern Era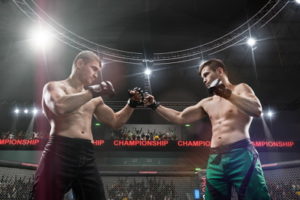 While numerous attempts at mixing the various fighting disciplines have been attempted ever since the days of the Ancient Greeks, the more modern form of mixed martial arts was perhaps popularised in the West thanks to the films and fighting style of Bruce Lee. He pioneered a form of fighting called Jeet Kune Do, believing that the best fighters should be able to adopt their form to 'any style' and 'not follow the system of styles'.
There was also a famous bout that crossed sporting genres when Muhammad Ali fought professional wrestler Antonio Inoki in Japan, which ended in a stalemate.
Whilst the match between Ali and Inoki ended in a draw after 15 rounds, it was seen as something of a turning point for mixed martial arts thanks to 2 of Inoki's students, Masakatsu Funaki and Minoru Suzuki, using it as the inspiration to create an MMA promotion company called Pancrase in 1993, with that in turn leading to the creation of the Pride Fighting Championships 4 years later.
That was another missed martial arts promotion company in the style of UFC, which had been formed in 1993 and later absorbed Pride into its organisation.
Where The UFC Fits In
Those that aren't completely au fait with mixed martial arts might look at the Ultimate Fighting Championship as a different sport, rather than a company within the genre in the same way that the Premier League is to football.
The UFC began life in the early 1990s when businessman Art Davies made a proposition to Jiu-Jitsu Grand Master Rorion Gracie and film writer / producer John Milius that there should be an 8-man tournament named 'War Of The Worlds' that would be single-elimination in nature. The idea was that it would feature fighters from different martial arts disciplines going up against one another, just as the savate fighters had done in the 19th century.
In 1993 they found investors and created WOW Promotions in order to create a television franchise around the idea. The majority of television production companies that the approached turned them down, but Semaphore Entertainment Group, which had been responsible for the 'Battle of the Sexes' tennis match between Jimmy Connors and Martina Navratilova the year before, signed up.
This was crucial to the future of the competition for 2 reasons: firstly, SEG approached a film and art director called Jason Cusson who created the Octagon ring that would go on to be a signature part of the event, whilst secondly the company also renamed it as the Ultimate Fighting Championship.
The UFC Becomes Real & Develops
The first version of the UFC took place on the 12th of November 1993 in the McNichols Sports Arena in Colorado. In the early days the sport was sold as providing sports fans with the answer to questions such as 'Can a wrestler beat a boxer?' Despite the history of fighting we've told you about above, it was usual for fighters to have experience of their own discipline but not to know others very well.
The result was that kick-boxers went up against karate experts, with sumo wrestlers taking on boxers and so on. Given that SEG had offered WOW Promotions a 5-year development deal for their initial 'War Of The Worlds' concept, many thought that it would grow and develop in the years that followed and it's entirely fair to say that that's exactly what happened.
In the competition's more formative years the UFC had something of a reputation of being a very violent event, with few rules other than competitors being banned from biting and gouging of eyes. Eventually the violent nature of events led to calls for it to be banned, with Senator John McCain leading the calls in the mid-1990s. That, in turn, led to those in charge of UFC wanting to find ways to reform it and make it more palatable.
The result was in increase in cooperation with the various state athletic commissions, some of which had decided to ban the sport. Slowly but surely that saw the sport become more mainstream, removing its more violent nature in favour of developing the striking and grappling element that saw it move to being a sport over a spectacle.
How Mixed Martial Arts Works
Weight Classes
Obviously the very nature of MMA means that there is no clear set of rules that stretch across each and every company that produces mixed martial arts events. That being said, there are certain things that we can tell you about it as a sport.
One of the chief things that was introduced when the sport moved to the mainstream was the introduction of weight classes similar to those used in other physical sports like boxing. According to the Unified Rules of Mixed Martial Arts there are 9 different weight classes, which are as follows:
Flyweight – Up to 56.7 kg
Bantamweight – Up to 61.2 kg
Featherweight – Up to 65.8 kg
Lightweight – Up to 70.3 kg
Welterweight – Up to 77.1 kg
Middleweight – Up to 83.9 kg
Light Heavyweight – Up to 93.0 kg
Heavyweight – Up to 120.2 kg
Super Heavyweight – No upper weight limit
Championship matches tend to last for 5 rounds of 5 minutes in length each, with other matches lasting for less time depending on the competition. Fighters also often wear open-fingered gloves that are intended to limit damage to their fists. These tend to weigh 4 ounces but amateurs wear ones of 6 ounces.
Winning
There are a number of ways in which a fighter can win a match, with the following being the main ones:
Judges Decision – This comes into effect if the fight isn't settled by any other means
Knockout – If a fighter is unable to continue then they are classes as having lost by knockout
Submission – Fighters can force each other to submit, which they indicate by tapping the mat or 'tapping' verbally
Technical Submission – If a fighter is in danger of being injured during a hold they'll referee can stop the match due to a technical submission
Doctor Stoppage – The ring doctor can decide that a fighter is unable to continue
That list isn't exhaustive, but it gives you a good idea of the sort of things that can result in a match being decided in the favour of one fighter over another.
Major MMA Events
| Event | Headquarters | Details |
| --- | --- | --- |
| UFC | United States | Whilst the UFC might have started life in the US in 1993, it has since grown to become something of a behemoth that sees events take place in the likes of Europe and Australia. It has different weight divisions, numerous competitive matches and in 2012 women MMA fighters began to take part in the competition for the first time. |
| Absolute Championship Akhmat | Russia | ACA was founded in Russia in 2014 and offers a mixture of Russian MMA, Brazilian jiu-jitsu and kickboxing. Again there are numerous different weight divisions and is seen by many as a slight rival to the world of UFC. |
| ONE Championship | Singapore | Created in 2011, ONE Championship is another of UFC's chief rivals. It involves fighters from the worlds of Muay Thai, boxing and kick-boxing and events take place throughout Asia. |
| Bellator MMA | United States | If there is one true competitor to the crown of the UFC then it's surely Bellator MMA, which boasts the backing of its owner, the media conglomerate Viacom. It was created in 2009 and has enjoyed numerous successful tournaments since then. |
| Fight Nights Global | Russia | One of the world's largest production companies, Fight Nights Global is based in Russia and has produced events worldwide ever since. |
| Rizin Fighting Federation | Japan | When Pride and UFC merged the former president of the former, Nobuyuki Sakakibara, decided to create a new competition in his native Japan. The result was the 2015 formation of Rizin, which hosts major tournaments with the title 'Grand Prix' |
It goes without saying that the Ultimate Fighting Championship is the biggest event in the world of MMA, but it would be unfair to suggest that it's the only one. There are others you can watch around the world, so above is a look at the sport's biggest tournaments and competitions.
ScorecardMMA.com is one of the leading statistical ranking organisations for mixed martial arts. They calculate an index on a weekly basis to declare the world's leading MMA competitions and is the place to turn if you'd like to find more examples of this ever-growing sport.