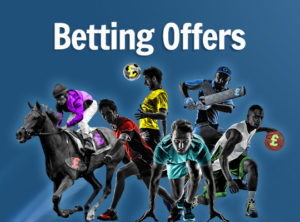 One of the best things about betting on the internet is the fact that there are so many offers up for grabs. The biggest and best bonuses tend to go to new customers when registering, but many bookies and casinos also offer reload bonuses, VIP programs, regular bonuses and various other special promotions to keep you happy.
On this page we've compiled a list of the welcome bonuses for each of the online bookmakers and casinos that we recommend. For each promotion we've also included a few key facts so you can quickly compare what's on offer.
Below you'll find sportsbook introductory deals and we operate a separate page for online casino offers. To see bingo welcome bonuses visit our sister site: bingowebsites.org.uk.  All offers are for new customers only, 18+, T&C's apply, please gamble responsibly.
Best Free Bet Offers - June 2022
Understanding Bonuses & Offers
In the online gambling world, all offers are not made equal – many of them are not even made easy to understand. There are a good number of different types of offer that casinos like to tempt customers with, and they all work slightly differently and come with various T's and C's that you have to understand before you commit.
If you are already rolling your eyes at the thought of this then just remember, there is no such thing as a free lunch and the bookies have definitely done their homework, so it's worth investing a little time now to avoid wasting money later. Once you have understood it you will not have to learn it again, it will be in there for life.
Now the lecture is over, let's have a look at the trickiest concept to master before moving on to the different sorts of offers that are commonly made available and some of the terms that may be attached to them.
Wagering Requirements
Before we talk about the different types of offers and bonuses we should cover the wagering requirements, as these will be attached to almost every bonus out there and are probably the most difficult yet important part to understand.
As an example, if you took full advantage of an offer giving you 50% bonus up to £50 you would have to deposit £100 to get the full amount. This makes £150; your £100 deposit plus the £50 bonus (which is 50% of your deposit). If the wagering requirements were x 30 you would have to stake £1,500 in total before your bonus winnings could be transferred to your cash balance. This is 30 x your £50 bonus.
In the meantime, bonus winnings are stored in a pending account which you can use to play with but you cannot withdraw. Only when the requirements have been met are the pending funds released to you for withdrawal. Sometimes your initial deposit will be included in this equation and sometimes it won't. Mathematically, this means that some offers are better than others, while others just look better. Using the bonus example mentioned above, which of the following looks better:
30 x bonus wagering
10 x deposit + bonus
The second, right? In fact they are the same. You deposited £100 and got a £50 bonus, so:
30 x £50 bonus = £1,500
10 x £100 deposit = £1,000 + 10 x £50 bonus = £1,500
Sneaky.
So you need to read the terms and conditions before accepting an offer to make sure you aren't signing up to a dud, or an offer that doesn't suit your bankroll.
Other Considerations
There are other regulations too. Certain games will contribute to your play through requirements more than others, and others not at all. For example, betting £1 on a slot might clear £1 from your wagering requirements, but betting that same £1 on something with a low margin like roulette would only clear 0.20p. Maximum bet rules are often applied for the same reason, to stop people throwing the whole bonus on a low margin game and crossing their fingers. Each casino will be slightly different so you have to check the terms and conditions. Imagine the fury if you staked £1,500 through a game that you later found out didn't qualify.
If that wasn't enough to get your head round, many of these offers also come with time limits, so you would have to complete the wagering requirements within a certain period of time or the offer becomes null and void taking any pending winnings with it. You may well also have to play through your real money deposit first before you can use your bonus.
At this point you might be wondering if it's even possible to come out of this better off than you went in – it is, but only if you fully understand the offer you are accepting. So, you absolutely have to, all together now: read the terms and conditions.
A few key points:
Bigger isn't always better – A 300% bonus on a £100 deposit might look attractive, but be honest, can you afford to get anywhere near the wagering requirements in the time allowed?
Do the maths – Clever phrasing could make a bonus appear more attractive than it is.
How are you gambling – Casino wagering requirements are much higher than sports betting and bingo. The former might sit between 20x – 50x as an average, whereas the latter could be as low as 3x or 4x.
Otherwise known as – Play through, rollover and wagering requirements are all terms used to mean the same thing.
Other Terms to Understand
Thought that was it? Afraid not. The following are much easier to understand but no less important; break the terms and your bonus and any associated winnings can be lost.
Time limits – Your bonus could expire if it is not used by a certain time. This can be much sooner than you might expect so don't take the offer until you are ready. But that's not all. You will also have to clear your wagering requirements within a certain time frame to complete the terms of the bonus.
Maximum Bets – Your casino bonus will probably be limited by maximum bets, £5 or a percentage of the bonus is common. This is to stop people using the whole bonus in one go and potentially hitting a big win, thus protecting the casino.
Maximum Winnings – Also known as maximum conversion. Be wary of this with smaller casinos especially. They have less capital to play with so state maximum winnings for any player as well as maximum winnings specifically associated with bonuses. They might stipulate that a player can only win a maximum of £500 from their bonus funds, for example.
Deposit Methods – Quite often, deposits via certain Ewalletts do not meet bonus terms. Skrill and Neteller are frequently disallowed so this is one you absolutely need to know or you could shoot yourself in the foot before you have even started.
Low Risk Betting – They don't like this. If the casino spots that you are only placing low risk bets like black/red on roulette, for example, they may revoke the offer.
Contributions
Let's explore this one in a little more detail.
Due to the different levels of risk associated with different games, some will contribute more than others when it comes to meeting your wagering requirements. For example, you are much more likely to win if you bet on red when playing roulette than you are if you are playing on a slot machine.
For this reason, casinos have game weighting in place to even things out. There is an example table below:
| Amount to Clear | Amount Wagered | Game Played | Weighting | Amount Cleared | Amount Left to Clear |
| --- | --- | --- | --- | --- | --- |
| £100 | £10.00 | Slot | 100% | £10.00 | £90 |
| £100 | £10.00 | Roulette | 25% | £2.50 | £97.50 |
| £100 | £10.00 | Blackjack | 20% | £2.00 | £98 |
| £100 | £10.00 | Video Poker | 15% | £1.50 | £98.50 |
This illustrates that some games will clear your wagering requirements quicker than others, and as you can see, slots are by far the most useful game to play so slots players clearly benefit more here. Someone playing Blackjack would have to wager 5 times more than someone playing slots to clear the same amount.
But those of you who prefer table games needn't worry too much, as many casinos run promotions specific to table games and the live casino, and the wagering requirements and weightings will be designed to suit. It's about choosing the right offer for you, which is why you need to read the t's and c's.
Bonus Structure
To dilute things a little further, think of all bonuses as falling into one of two camps; sticky or real money.
Of course, there are further bonus variations beyond this but for now just imagine there are only two. This will make things simpler as we break it all down.
Sticky Bonus
A sticky bonus is a bonus amount that lands in your account and is available to play/bet with, but will never become available to withdraw as cash even after you meet any rollover requirements. There are actually two kinds of sticky bonuses.
The first is a bonus which is not available to withdraw, ever. Only the winnings from that bonus can potentially end up in your bank account. You can, however, use the bonus and the winnings from it to help complete the wagering requirements. So, if the bonus was £10 and after you had played through the requirements you had £15 in the account, £5 of that would be available to withdraw and the original £10 bonus would disappear.
The second sticky bonus is the one you really want because the initial bonus amount will not disappear if you hit the wagering requirements and decide to withdraw, it will still be available to play with until it runs out. Everything else is the same, though, it will still never turn into bankable cash.
Real Money Bonus
This is a rare occurrence these days, sadly. However, now and again you might find a bonus that becomes bankable cash once all requirements have been met.
Let's keep the example bonus at £10. If you clear the wagering amount set by the terms in the offer and you have £20 at the end of it, you can withdraw the whole amount to spend as you please. If it was a sticky bonus you could only withdraw the £10 profit, with the initial £10 bonus either disappearing or remaining as bonus funds depending on the type of sticky bonus it was.
Bonus Types
Now we understand wagering requirements and the two basic bonus categories, we can move on to look at the specific bonus types and how they work.
They will all fall into one of the two camps above, but from there they will differ in a few ways. Different casinos might have their own names for the same offers (welcome bonus is new player bonus is first deposit bonus etc) so you want to look at how the offer works to establish which one it is, which isn't difficult to work out.
Welcome Bonus
A welcome bonus is simple enough on the face of it. It's the carrot dangled by the casino to get you to join and start playing. These come in various forms, but often will look like a matched deposit offer of some kind.
For example, they might match your first deposit by 100% which means that if you deposit £50 when you open your account, the casino will give you £50 more to play with, giving you a total bankroll of £100. This isn't free money, however, and will likely come with wagering requirements.
These will usually come with a cap as well, so it might look like this; 100% bonus on your first deposit up to £200. So to get the full amount you would need to deposit £200 because 200 + 100% = 400. Of course, you could just deposit the minimum £10 and get a £10 bonus because 10 + 100% = 20. This flexibility is useful if you aren't loaded but still want to take advantage. It's easier to play through the wagering requirements, too.
Alternatively, they might just say; Deposit £200, get £200 – which is essentially the same thing but there is no flexibility with the amount of bonus available, you have to deposit £200 to qualify for the bonus. These set amounts wouldn't usually be anywhere near as high as that, though.
The benefit with matched bonuses is that you could potentially more than double the money you have to play with, which gives you plenty of time to try out the casino and the games within it at no extra cost to yourself.
Free Bet
You may also be offered x amount of bonus money as a free bet. This could be a welcome offer but they do pop up at other times too.
It might look like this; Bet £5 get £20. So you will have to bet £5 on a qualifying bet to receive the bonus. The qualifying bet will usually have minimum odds applied and some restrictions. You know what to do here, right? Read the ter… ok ok, you get it.
The free bet will have to be wagered in the way the bookie has chosen, you don't usually get the option to split it up as you please. They might make you use it all at once as a single free bet of £20; or they might split it into four bets of £5, for example.
There will still be wagering requirements to meet but they tend to be much smaller on free bet offers, 3x or 5x. There will also be exclusions as to what you can use them on so go into it with your eyes open.
No Deposit Bonus
This one literally costs you nothing. Of course, it is highly unlikely that you will be able to play through the wagering requirements and withdraw any money at the end of it without depositing more real cash, but it does give you a free bankroll to start with.
Even if you were ridiculously lucky, got a big win and completed the play through requirements using those winnings, you would probably still be asked to deposit before being allowed to withdraw. So what are we going to tell you to do? That's right. Read the terms and conditions.
The obvious plus point here is that you can explore the casino itself and try out some of the games for free, gaining experience along the way so you feel better prepared when you do deposit real money. It doesn't really matter if you don't get a single win because it hasn't cost you a penny.
Free Spins
Free spins might be added on to a welcome bonus as an extra incentive or given as a standalone offer or reward for loyalty to a particular casino.
Once again, the term 'free', while technically correct, is misleading. These free spins will have to be used within a certain time frame first of all, otherwise they are void.
Next, the winnings from these free spins will almost certainly come with fairly high wagering requirements that you will need to clear before the money becomes available to you as cash.
Lastly, the games you can use them on will be specified by the casino, so you won't have free reign to do exactly as you please with them. The terms will be as individual as each casino, so do read them.
Loyalty Bonus
These bonuses are designed to retain customers rather than find new ones.
Every casino is different in this area but most often it works in the form of loyalty points and VIP schemes. The players' activity on the site will be rewarded in one way or another and loyalty points, free spins on certain games (with and without wagering requirements if you're lucky) and exclusive VIP bonuses can all apply.
VIP status levels are reviewed regularly, often from month to month, while loyalty points that can be redeemed for cash, free spins, prizes etc (varies from casino to casino) will have a longer shelf life, although they do expire eventually.
Others
There are other bonuses floating around out there like Refer a Friend, High Roller, and even Payment Method bonuses, but they are much rarer and don't really need further explanation anyway.
If you can grasp the above then any other bonus or offer that you are able to take advantage of won't be too taxing for you to understand.