Few sports look as confusing and convoluted from the outside as Gaelic football, which sees two teams with 15 players on each attempt to outscore each other by advancing a leather ball up a rectangular pitch and getting it into the opposition's goal.
The goal looks like a cross between one that would be used in association football and those used in rugby, with two posts going up into the air that players can score between. If they get it into the normal goal then 3 points are awarded, with 1 point given for a goal above the crossbar but between the posts.
Gaelic football follows other football codes by having a goalkeeper, defensive players midfielders and attackers, with the number of people playing in each position being the major differential. It joins hurling, Gaelic handball and rounders as being part of the Gaelic games that come under the control of the Gaelic Athletic Association, which is Ireland's largest sporting organisation.
The key thing to know about Gaelic football other than the rules and its history is the fact that it is a strictly amateur sport, being one of only a few that fit into such a bracket anywhere in the world.
Best Gaelic Sports Betting Site
Lets fact it if you want the best from Irish sports betting you should go with a bookmaker that has roots there.  They don't come any bigger or more comprehensive than Paddy Power.
There are three major reasons to bet on Gaelic sports with them, firstly they have the biggest market selection and depth, secondly they cover matches and tournaments far longer in advance than others, and finally they have betting offers for Gaelic football that can add value to wagers
You could also look at other Irish bookies who will have plenty of lines and often decent promotions.
T&Cs Apply, 18+, begambleaware.org, gamstop.co.uk #ad
Betting On Basketball
| Term | Meaning |
| --- | --- |
| 1X2 | This is a bet on the home side (1), the away team (2) or the draw (X) |
| 3-Way Points Handicap | Here you can bet on the 1X2 market but with handicaps applied, such as -2 for the home side, +2 for the away side and nothing for the draw. |
| Outright Winner | As you might imagine, this is a bet placed in advance on which team is most likely to win a tournament or competition. |
| Goalscorer Markets | First, last, anytime, multiple goals, over/under, etc. |
| Total Points | Either for both teams together or each team individually. |
| Winning Margin | Usually anywhere from 1-3 points to 16+. |
There are a number of different markets that you can bet on in the world of Gaelic football, with those above being the most common.
Clearly the list is far from exhaustive, but it gives you an idea of the sort of bets that you can place. The more clued in to the world of Gaelic football you bookmaker of choice is, the more options there'll be when it comes to looking at the market.
The History Of Gaelic football
'Foot Balle'
In 1308 a spectator of a football game named John McCrocan was charged with accidentally stabbing William Bernard, a football player. This is the first known legal reference to football in Ireland, with the 1527 Statute of Galway allowing a game called 'foot balle' to be played.
Quite how much either of those games were linked to the Gaelic football game that we know and play today is a matter of some debate but what we do know is that sports known as 'football' were played throughout Ireland's history.
By the time the 17th century rolled around football in some form was popular, with games involving 20 or more of their tenants organised by landlords. A match County Meath in 1670 allowed players to both catch and kick the ball, which many believe places it is a direct precursor to the game played today.
In 1695, however, the Sunday Observance Act banned the playing of 'foot-ball', limiting the game's spread. That it was almost impossible for the authorities to enforce this new Act is probably part of the reason for an inter-county match between Louth and Meath being played in Slane in 1712.
The Game Begins To Take Shape
By the start of the 19th century there were numerous different forms of football being played across Ireland that earned the collective name of 'caid'.
There were two forms of caid that were more popular than the others, with the first involving putting the ball through the arch-like goals that were commonly formed from the boughs of two trees. The other was an epic game that took up the whole of Sunday once mass was over and required a team to get the ball across the opposition's parish boundary.
As the 19th century progressed the game of rugby began to become more popular in Ireland, whilst the English Football Associations rules for football were codified in 1863 and began to be spread around the world.
By the 1880s association football was the most popular sport in the country, with caid beginning to fall away. The one area where that wasn't the case was in Limerick and the employees of Cannock's Drapery Store formed the Commercial Club and imposed a set of rules on the game that would slowly become Gaelic football.
The Gaelic Athletic Association Is Formed
The Gaelic Athletic Association was created in 1884 in the billiard room of the Hayes' Hotel in County Tipperary. The idea behind the new organisation was to preserve the sports and games unique to Ireland, though they didn't look to codify the rules of Irish football until 1887.
They were initially more interested in promoting games like hurling and rejecting English imports such as association football. One of the Association's co-founders, a farmer named Maurice Davin, drew up the first rules of Gaelic football and published them in the February 1887 edition of United Ireland Magazine.
The official rules drew upon those that had been created by the Commercials Club years before, showing the influence of hurling and the rejection of association football in the fact that offside wasn't one of the rules.
The foundation of the GAA saw the sport's reputation grow and it began to be played more roguery throughout Ireland. Indeed, the sport's popularity grew so much that by 1958 England's Wembley Stadium began hosting an annual exhibition of Gaelic football, which was watched by tens of thousands of people.
Bloody Sunday
Much has been written about Bloody Sunday over the years and we couldn't even begin to hope to do the day justice here. It occurred on the 21st of November 1920 in the midst of the Irish War of Independence and resulted in the deaths of 32 people.
It started when a group of Irish Republican Army members went to addresses throughout Dublin and assassinated 9 British Army officers, a Royal Irish Constabulary Officer and 2 Auxiliary Division members, as well as 2 civilians and a man believed to be an intelligence agent.
The reason we're writing about it here is that the Auxiliary Division and RIC responded to the deaths earlier in the day by going to a Gaelic football match in the afternoon and opening fire on the crowd at Croke Park.
Fourteen civilians were killed as a result, including Michael Hogan who was a player for the Tipperary Gaelic football team. A new stand was completed at Croke Park in 1924 and named the Hogan Stand in his honour.
More than 60 others were injured that day, resulting in the tide of public opinion in Ireland shifting in favour of the IRA and against the English, with many believing this is part of what led to Southern Ireland's independence.
Gaelic Football & Aussie Rules Football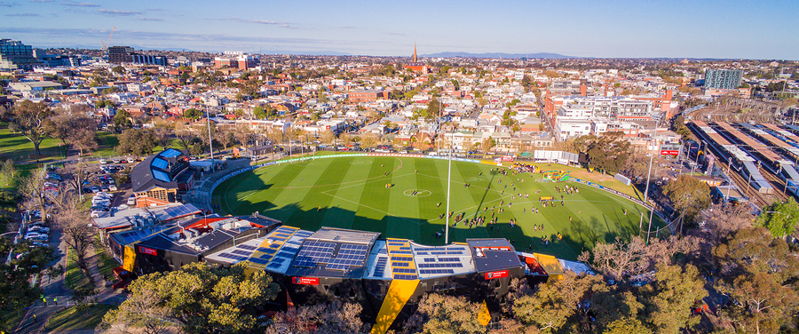 There has long been a debate about whether or not Gaelic football and Aussie rules football have a shared origin. The two games boast a similar style to each other leading some historians to believe that they do indeed come from the same basis whilst others completely disagree.
The only thing that we can say for certain is that in 1967 an Australian journalist and Victorian Football League umpire named Harry Beitzel sent a team of Austrian rules players to play an Irish team, having been inspired by the All-Ireland senior Gaelic football final that he'd watched on TV the year before.
That started what would go on to become the International Rules Series, whereby players from the two different codes play in matches that use rules from the pair of sports. Australia and Ireland alternate playing host and the likes of Croke Park and the Melbourne Cricket Ground have been used as the venues for the Series.
Aussie rules clubs also began recruiting Gaelic football players, with a number distinguishing themselves over the years. Examples include the all-Ireland football champion Jim Stynes going on to become an important Aussie rules player and Tadhg Kennelly winning both the All-Ireland Football Championship and becoming an AFL player.
How To Play Gaelic Football
The Pitch
The pitch used for Gaelic football is similar in nature of a rugby pitch in some senses, though it's actually larger. Rectangular in nature, is should be between 130 and 145 metres long and 80 and 90 metres wide.
There are H shaped goals at either end, formed by posts that are around 6 or 7 metres high and 6.5 metres apart, connected by a crossbar that is 2.5 metres off the ground. The lower half of the goal has a net.
Lines are located at 13 metres, 20 metres and 45 metres from both ends of the pitch. The same pitch can actually be used for hurling matches, which was a decision taken by the GAA to allow fewer pitches but more games being played.
The Matches
Matches last for 60 minutes, which is made up of two 30 minute halves with a break of 5-10 minutes separating them. The exception to this rule is senior inter-county games that last for 70 minutes thanks to two halves of 35 minutes apiece.
Junior games are slightly shorter. If the match is a draw at the end then they can either be decided to two halves of 10 minutes a piece extra-time or a replay, which is competition dependent.
The Teams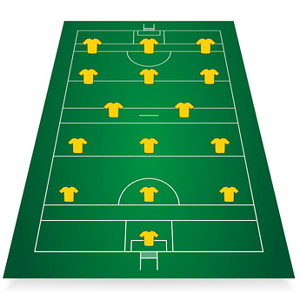 Teams are made of 15 players, with an additional 15 substitutes available from which 6 can be used. It's not unknown for smaller clubs or junior sides to play 13-a-side matches if they can't find 15 players. There are typically a number of different positions taken up by Gaelic players, which are as follows:
Goalkeeper
2 Corner Backs
1 Full Back
2 Wing Backs
1 Centre Back
2 Midfielders
2 Wing Forwards
1 Centre Forward
2 Corner Forwards
1 Full Forward
The players wear number 1 to 15 on their jerseys and the goalkeeper is required to wear a top that is a difference colour to the one worn by his teammates.
The Ball and Passing
The ball is made up of 18 leather panels that are stitched together. They look a little like large volleyballs and have a circumference of between 68 and 70 centimetres. They typically weight around 500 grams when dry, though obviously rain can result in them becoming heavier.
The ball is passed either by kicking it or hand-passing, which is different from a punch. A hand-pass is performed by striking the ball with the thumb side of a closed fist, using the thumb's knuckle to propel the ball.
Fouls
Gaelic football has 3 main types of fouls, of which the outcome of committing one can be a player being cautioned, a player having to be removed from the field of play, the ball being given to the other team or even the match being abandoned. Here's a look at each of them:
Technical Fouls – These include the likes of moving five steps without releasing the ball, changing the hand that the ball is in, hand-passing a goal and throwing the ball
Aggressive Fouls – These are verbal or physical fouls committed either against an opposition player or an official. The result is usually a yellow card (caution), a red card (sending off) or a black card (ordered to be substituted)
Dissent Fouls – This is when a player refuses to comply with a decision of the officials and usually results in either a yellow or red card. In exceptional circumstances the game can be terminated
Scoring Goals
Points can be scored 2 ways in Gaelic football, the first of which requires players to either kick or fist the ball over the crossbar and between the two posts. This results in the official raising a white flag to indicate that 1 point has been awarded.
The second way that players can score a goal is by kicking the ball into the net. Where things get slightly confusing is in the fact that goals cannot be scored with a fist pass but can be scored with a closed fist as long as the ball has been played to them by someone else or struck the post, crossbar or ground before being struck. If a goal is scored then a green flag is raised.
Scoring can look confusing if you haven't watched Gaelic football before, with points coming first and goals coming second. For example, let's say that a scoreboard says Team A has 19-0 and Team B has 3-4, that means that Team A has scored 19 single points and no goals, whilst Team B has 3 single points and 4 goals worth 3 points each. Team A will have won the match 19-15.
Tackling
Gaelic football is a contact sport but it isn't quite as physically robust as rugby. Players can engage in shoulder-to-shoulder contact and slapping the ball out of an opponent's hand is fine, but the following all class as fouls:
Sliding tackles
Tripping
Blocking a shot using the foot
Striking an opponent
Wrestling control of the ball out of an opponent's hands
Pushing
Pulling the jersey of an opponent
Tackling with both hands
Touching the goalkeeper when they are within their small rectangle
If a foul is committed then the other team get a free-kick, with being taken from where the ball lands if a player is fouled whilst making a pass. Matches are officiated over by a referee and 2 linesmen as well as a sideline official and 4 umpires.
Major Gaelic football Competitions
The important thing to note about Gaelic football is that it continues to be played on an all-Ireland basis, in spite of the partition between Northern and Southern Ireland that came about in 1920.
What confuses matters further is the fact that games take place on a county level and inter-county. The biggest tournaments are as follows:
All-Ireland Senior Football Championship – Founded in 1887, this sees 33 teams compete across the course of a season.
National Football League (Ireland) – Ireland's secondary competition was founded in 1925 and has 32 teams.
All-Ireland Senior Club Football Championship – This began in 1970 and is played for the Andy Merrigan Cup.
Sigerson Cup – First played in 1911, this is specifically for higher education institutions in Ireland and is considered to be prestigious.