Sportsbroker Review - Not Recommended
We no longer recommend betting at Sportsbroker. You can see a list of alternative places to bet on our bonuses page
Buy low sell high.
That's the secret to success with SportsBroker, because unlike other sites we have reviewed, this one is a trading platform, just like the real life stock market.
Well, ok, it's not quite like the real life stock market, it's a lot simpler than that, but the concept is the same so our very basic advice still stands.
This is a peer to peer real money gaming platform where customers buy virtual shares in football teams and then hope their share price goes up. When it does, they can sell for a profit or hold on in the hope that it rises still further.
In many ways it is similar to an exchange, in that you are attempting to win money from someone with shares in the opposite team, but being able to hold your shares for as long as you want gives the customer more control when it comes to risk.
It won't be for everyone, but for football fans who enjoy some recreational spending on the sport it's an exciting addition to the industry, offering a completely new way to profit from your footballing expertise.
Trading Football Markets
At the moment, there is only the option to trade on teams playing in the Premier League or the Championship, but we would expect the range of markets to expand as the company grows.
This actually gives new customers the opportunity to get in on the ground floor, so to speak, and get to grips with the platform – and maybe even bag a few cheap shares – before things take off and get busier.
The idea in a nutshell, is to buy shares in teams that you think are going to do well. Whether that is in the next game, over the next few months, or over the course of the whole season is up to you.
Once you have bought shares you can hold them for as long as you want, you can even add more shares to your position if you think the price can keep going up. Alternatively, once they have gone up a bit you can sell them (or some of them) and take profits.
You can even buy/sell fractional shares, which means if you want to buy a team that costs £50 a share but you only have £10 to spend, you can buy a tenner's worth of that team. Really handy when money is tight.
The share price for each team will go up or down based on their performance in the last game they played, so you need to time your entry point when you think a team is about to have a good run. However, because you can close your position at your own convenience, you have the flexibility to change your mind and turn a long term position (equivalent of an outright) into a short term position and vice versa.
It's a peer to peer platform which means you are going head to head with other customers, so when you win money someone else is losing it, just like with an exchange. There are a lot of similarities between exchanges and SportsBroker actually, but with trading you have more options and more flexibility.
How Do the Share Prices Work?
At the start of each season, all teams will have a starting share price based on their ranking – so big teams will be more expensive than smaller teams etc.
During the course of the season the share price will move based on an algorithm designed in house by SportsBroker, taking into account all sorts of stats from game to game.
This is another area where SportsBroker differs from an exchange, because winning or losing a prediction isn't based on specific results; a correct score prediction, or a winning team prediction, etc.
It's actually based on a team's performance relative to the team they are up against, and this is what makes it so interesting.
So a team like Chelsea would go up in value much less for beating a team like Norwich, especially if they only just scraped the win. In fact, their share price could even go down if they played particularly badly, despite the win.
Norwich on the other hand could lose 1-0 but if they had Chelsea under pressure, hit the woodwork twice and the keeper saved a penalty, they could see their share price increase. It's even possible for both teams prices to move in the same direction.
Many aspects can affect the share price, but it will be based on merit, so good football knowledge can really pay off here, especially if you think a team is currently undervalued and might cause a few surprises over the next few games.
At the end of each season, SportsBroker buys back all shares at their current value, and the prices are reset ready for the next season.
Banking
| Banking Method | Max/Min Deposit | Max/Min Withdrawal | Notes |
| --- | --- | --- | --- |
| Debit Card | £10 | £10 | Set 24hr / 7 day / 30 day Limits |
With such low minimum deposit levels and the ability to buy fractional shares, anyone can enjoy the platform at a level that suits them. The percentage gains or losses will be the same for the big spenders and the penny players.
Withdrawal minimums are fair at £10 too, and there is nothing in the terms that raises red flags for us.
The most impressive aspect about their payments is a proportion of funds are always kept with their payment provider, this means when you request a withdrawal it is instant.  That means it will reach your bank usually within minutes (on a working day), outstanding.
Plus, the fact that customers buy and sell shares peer to peer mean that SportsBroker aren't going to run into any of the same issues as other stock market-based sports trading platforms.
*coughFootballIndexcough*
So, all in all it is affordable, accessible, and safe.
Desktop Site
With a pleasing blue/grey colour plus the splashes of green that are SportsBroker's branding, their website instantly comes across as modern and up to date.
It's a very simple site in a lot of ways, and on bigger screens can almost feel a little deserted, but this doesn't take away from what it is capable of.
The site has a lot going on beneath the surface, with buy and sell prices for 44 clubs changing in real time, plus stats for every single match played including performance based information that dictates each team's share price movement.
This all works perfectly, and the user experience is spot on.
In terms of navigation, even someone from the 90s could figure it out. There are a few simple options that display the available markets, your own portfolio of teams, and a few other things, and each page has its' own related further options from there.
It makes perfect sense as you move through the site. For example; from the Markets page you can choose the league of your choice then view the league table with prices, w/d/l etc. and some broad history. From there you can move to upcoming fixtures and recent results, before doing deeper research into each game, head to heads, match stats, price movements, and so on.
Another handy design feature is the tracker at the top of the site. This takes into account all of your holdings, and tallies up your total account value, profit or loss, available cash to spend on new positions, and money you have in the market. It's a really easy way to track the general health of your account.
Mobile Website and App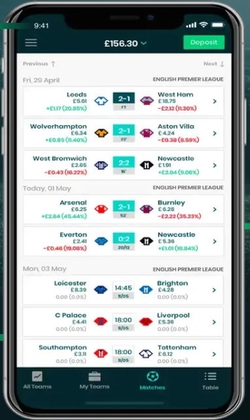 These days most websites are developed as much for phones and tablets as they are for computers, and judging by the quality of SportsBroker's efforts we would say that is definitely true here.
You couldn't fit a rizla between the app and the mobile site, they are identical to the untrained eye, and as such can be talked about here as one and the same thing.
The scaled down platform is arguably better on the small screen, as there aren't hundreds of different options like you might find on other sites, because they aren't needed.
The most important options sit within a footer menu for quick access, and all of the stats, results, buy/sell prices and everything else you might need are never more than a tap or a swipe away; plus, the interface design allows everything to be done comfortably with a regular sized phone in one hand – unless you have tiny Donald Trump sized hands…
It looks good too, feeling more complete than the expansive desktop site, but miles off feeling cramped or crowded.
As for performance, well, in our experience there have been zero issues using the app or mobile optimised websites, although of course your internet connection will play a part in this. But when we have used it the site has completed tasks very quickly allowing us to make timely decisions and execute trades without hassle.
It's fair to say that the majority of users will be accessing SportsBroker via a mobile device of some sort, especially while at football matches, so the fact that the app is in such good shape is an important plus point.
Why Use SportsBroker?
The site offers the most entertainment during an actual game as this is when the prices will change the most, so anyone who enjoys in-play activity will be well suited to SportsBroker.
It goes without saying that you will need to be a football fan too, or at least have in interest in making money from the sport, as there are no other markets available at the moment.
If you have always fancied yourself to be a bit of a wheeler dealer who can spot an opportunity when it comes along then you will probably enjoy trading here too, because
What's more, since it's peer to peer there is a competitive element to SportsBroker that a lot of people will enjoy, as you are effectively competing against people with shares in the opposing teams.
Most of all though, it's just fantastically different to anything else on the market. Despite the similarities with an exchange, it is different enough to feel completely unique and it requires a fresh approach too, so anyone who wants to enjoy spending their fun money in a more strategic way and is happy to incorporate timing into their decision making will love it.
Support
Straight out of the gate SportsBroker offer a 24/7 support service via live chat and email. It's real support too, the email is manned 24/7, not like some of those companies who cheekily publicise 24/7 support because you can email in whenever you like even though no one is there in the office until the morning.
This is good because as a new concept there are bound to be plenty of people with questions to ask about how trading football teams works, and it also builds trust with new customers.
The FAQ goes some way to backing up this support, but it is the 'Academy' which will do most of the work for them.
The Academy is a series of short videos explaining how everything works, and they are extremely useful for any new joiners or people who have no idea how trading works.
Saying that, they are quite basic and could do with going into a bit more detail for our money, but the fact that they exist at all is great, and is evidence of a forward thinking and customer focused company.
Contact
Live Chat – 24/7, scroll to the bottom of the page and hit Contact to find it.
Email – Check in using

[email protected]

– wonder how they came up with that?
Phone – Only wives and girlfriends are allowed to have the phone number unfortunately.
@SportsBrokerHQ – It's not really there for support but they sometimes give away free tickets. To Huddersfield matches though.
Address – Eldon House, 201 Penistone Road, Kirkburton, Huddersfield, West Yorkshire, HD8 0PE (Stop laughing at the road name. So immature.)