It's not always the case that you have to back the winner in order to make a profit. Each-way betting allows you to bet on your selection to finish in anywhere from the top two to the top six places, and occasionally even more.
Often used for selections with longer odds, each-way betting is a means of getting paid when a selection 'places' rather than wins.  The odds for a place are lower than those for win, usually a 1/4 or a 1/5 the price of a win (depending on the sport and number of places), and you are required to place two stakes, one on the win part of the bet on one on the place part of the bet, this is called betting each way.
The positive side is you are reducing the risk of losing everything if the horse places, and if the original odds are high enough you may still make a profit.  At the same time if you do win you will get paid out both on the win bet and the place bet.
What is Each-Way Betting?
Betting on sports is a risky but exciting business and there are many times when you'll be left cursing after your tip comes second or third, especially if it were to lose in a photo finish or a play-off.
If you've backed it to win and it comes 2nd then you lose your stake. Simple as that. However, if you had placed an each-way bet then you'd have seen some money returned for that 2nd place finish and perhaps even made a profit.
With each-way betting there are a number of considerations that have to be made. The first is how many competitors there are in the event.
In horse racing, if there are only four horses taking part then you can't bet each-way, it has to be a bet on the winner. If there are five entrants, you can bet each-way on the first two places. When there are eight runners, the first three places are paid out on, and with 16 if it's a handicap it's the first four (as standard).
The table below shows the industry standard number of places given for horse racing, along with the kind of promotional enhanced terms you could get if you shop around. This is when a specific bookie pays out on an extra place as part of an offer or promotion.
| Race Type | Runners | Places | Enhanced Places |
| --- | --- | --- | --- |
|  Any Type |  2 – 5 |  1 (Win Only) |  – |
|  Any Type |  5 – 7 |  2 |  3 |
|  Any Type |  8 – 11 |  3 |  4 |
|  Non-Handicap |  12 or more |  3 |  4 |
|  Handicap |  12 – 15 |  3 |  4 |
|  Handcaip |  16 or more |  4 |  5 or 6 |
The second major consideration is the odds.  In horse racing, each-way place odds are usually 1/5 total odds as standard, but with some bookies, and for high profile racing, you can often find 1/4.
With other sports and markets there are different rules, so it is vital to always check the terms and conditions of the event. There will be information that tells you how many places are being paid out on and what odds are awarded to the place part of the bet.
With some major events such as the Open Golf tournament you can often find promotional offers paying out on up to the first eight places.
Markets with a low number of places often have better place odds for obvious reasons. An outright bet each-way on the winner of the FA Cup, for example, will often only take into account second place.  The positive side is the odds for a runner-up are often 1/3 or even 1/2.
Remember, placing an each way bet is actually a package of two bets, a win bet and a place bet.  Therefore, a £10 each-way bet is actually £20 total stake.  £10 for a straight win at original odds, and £10 on the place at the advertised place price.
How to Place an Each Way Bet
You are betting on a horse race and there are eight runners and the bookmakers will pay out on the first three to home.
You fancy an 7/1 shot to do well but are not too confident it will actually win the race. Therefore, you can opt to go for an each-way bet.
The bet you decide to place is £10 each-way. That's £10 on a win bet and £10 on the place. The bookies offer you a fifth (1/5) the odds for placed horses.
Placing an each-way bet (if available on the market) is easy, there is usually a box to tick, or similar, as shown in the example screenshot.  You will notice how the total stake is now double the unit stake.
If your selection wins, then the win bet is up and that's £10 at 7/1, paying you £80 total return (winnings plus stake). The each-way part of the bet is also successful and that works out at £10 staked at 7/5, which is logically a fifth of 7/1. The each-way bet therefore pays £24.00, £14.00 in winnings with £10 of your stake back. You are therefore up a total of £104, £84 winnings plus your entire £20 stake back.
If your selection had come in second or third instead your win bet will have lost so that £10 is gone, but there is still a return on your each-way bet. The maths is the same as above, so the place bet pays out £24. In this scenario then, your horse didn't win the race but your place bet saved the day, covering your stake and giving you a profit, albeit a small one, of £4.
Backing Outsiders
If you place each way bets on selections with low original odds you may not cover your stake if the bet only places.  For example, if you back a horse at 2/1 with £10 each-way, even with generous place odds of 1/4 you will only get back £15 if it places.  You've staked £20 initially and although you haven't lost it all you've still lost £5.
The rule goes that if you divide the original odds (in a format /1, or convert to decimal and subtract one) by the fraction you receive for a place, and then multiply this by the stake, it will tell you if you will at least make your money back.
Here are three examples with £10 each way stakes, so a £20 total bet:
4/1 (5.0 decimal) selection with 1/3 odds for a place.  (4 / 3) x 10 = £13.33, plus £10 stake back, therefore this would cover the original stake if bet each-way.
3/1 (4.0 decimal) selection with 1/4 odds for a place.  (3 / 4) x 10 = £7.50, plus £10 stake, would not cover the original bet.
5/1 (6.0 decimal) selection with 1/5 odds for a place. (5 / 5) x 10 = £10, plus £10 stake, this bet would break even.
The same theory applies to all each-way bets. Where you can realistically make profits here is by finding selections at large prices that you think have the ability to possibly place.
So What Have We Learned?
Each way betting really is made for taking a chance on outsiders, particularly in sports like golf where prizes are shared widely and new winners are always emerging.  There are usually plenty of players who are available at odds such as 33-1, 50-1 and 66-1, especially those new on the scene.
Getting one of those selections to finish in the required places is going to make you good profits with a fifth of the odds available on placed selections.  If you spot the next Tiger Woods early then you can make some tidy gains betting E/W.
Of course, the big bonus comes if that outsider doesn't just get placed but ends up winning the event. That'll really give you a big win as you will get paid out on both sides of the bet, the win and the place.
Looking at the example screenshot above, let's say you were lucky enough to back a 125/1 shot £50 each-way to win the world cup at 1/2 odds and two places. You would get back (including stake) £6300 from the win bet and £3175 form the place part.
In horse racing, I've often found that where there are three or four places available for each-way betting, a bet on a horse that's about fourth or fifth in the betting and at a reasonably high price can be good fun. If one or two of the more fancied runners have a disappointing run, or there is an incident in the race, or your selection simply runs a blinder, then getting placed is highly likely.
Each Way Betting in Football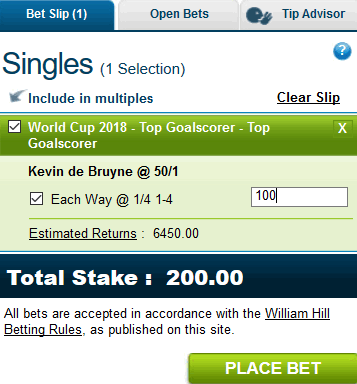 Obviously, you can't place an each-way bet on the end result of a football match. There are still plenty of each-way betting opportunities elsewhere in the sport though.
You can place each-way bets on major competitions such as the World Cup and Premier League.  In the World Cup this can be for the teams to reach the final (first two places). With the Premier League it can be to finish in the top three.
Then there's the actual game itself. With first goalscorer bets you can actually bet each-way. This means that if your selection doesn't score the first goal but does get one later on, a lesser pay-out will be available.
In the screenshot example above we are looking at the place odds for backing a top goalscorer at the World Cup.  In this case, the bet pays out on the top four places at one quarter of the odds – where it says "1-4" it is indicating how many places are being payed, and where it says "1/4" it is indicating what it pays. It is worth noting that this is a perfect example of where dead heats could apply (see later)
Sports With Each Way Betting

There will also be each-way betting available in some form on all other sports you can find in an online sportsbook. If there's an event that has at least three entrants, then it is theoretically possible to have each-way betting available.  In practice, you don't generally find each way bets with less than five competitors.
The more entrants the higher the number of places.  The odds will depend on the number of places and as a rule the more places offered the lower the place odds.
If you can think of any market in which a final order can be ranked into places then you are very likely to find a bookie taking an each-way wager on it.
Each-Way Betting Tips
Look For Extra Places
Look for the events where a lot of each-way places are being offered, this gives you more chance of getting a return on your bet.  With an event where bookmakers pay out on the first five or six places, your selection can be way down the field but still in with a chance of getting in the top six and that bet of yours is still very much alive.
This is a common promotion for high profile events.  Bookies will offer enhanced place terms just to get you to bet with them.  For example, around big horse races like Cheltenham, you can often find bookies that will offer one, even two places above standard, because so many people are looking for somewhere to bet.  For the Grand National bookies like BetVictor often give 6 places!
Look For Enhanced Place Odds
It's not all about the number of places, it is also about the value of the place odds.  It is worth signing up to few different sites and having a scan around them to see which have the best place odds for a given race or event.
It is very common these days to find 1/4 odds online for horse racing, for example, so don't settle for 1/5 if you don't have to.  Of course, the place odds are relative to the original odds so this logic only works if the odds are equivalent.  For example, which is better, 1/4 odds at 7/1 or 1/5 odds at 8/1?
£10 E/W at 1/4 for a place and initial odds of 7/1 will pay £107.50 if the selection wins and £27.50 if the selection places.
£10 E/W at 1/5 for a place and initial odds of 8/1will pay £116 if the selection wins and £26 if the selection places.
The top example is better if the selection places but the bottom example is better if the selection wins.  Therefore, which is 'better' depends on you as a punter and your attitude to risk.
Consider Dead Heats
If your bet ends up in a dead-heat this can reduce your payout significantly.  If you don't know what a dead heat is you can read about it in our dedicated article.
If you've backed a golfer £10 each way at 6/1 with five places and at quarter odds then you would be fairly confident that you would get paid out enough to make a profit if the golfer finished fourth.  A place alone here should pay £25 back, £5 profit on the initial bet of £20 total.
If, however, that golfer is in a dead heat for fourth place with three other golfers (which can commonly happen), then you will end up getting paid less than you original overall stake.
In the above example, your stake is recalculated due to dead heat rules.  The original odds to win of 6/1 would have given place odds of 6/4, this remains unchanged.  Your stake, however, is now reduced by a factor of the number of places being fought over (in this case two, fourth and fifth place) and the number of players in the dead heat, which is 4.  2 (places) divided by 4 (players) equals 0.5.  This means your stake is reduced by that factor, so it's halved. Your new payout is therefore £5 at 6/4 rather than £10, and this would give you just £12.50 back, with £20 originally staked.
There is nothing you can do about a dead heat, it is just one of those things, but it is worth considering if you bet on sports like golf, where dead heats can occur more frequently.  When you place each-way bets here expect a higher percentage than normal to end up with dead heat situations.