Tonybet Review - No UK Customers
Tonybet is temporarily closed to the UK while they undergo a stringent internal audit of theri processes and operations.  Once Tonybet are accepting UK customers again we will update this page.  In the meantime see our Gambling Sites page for other options.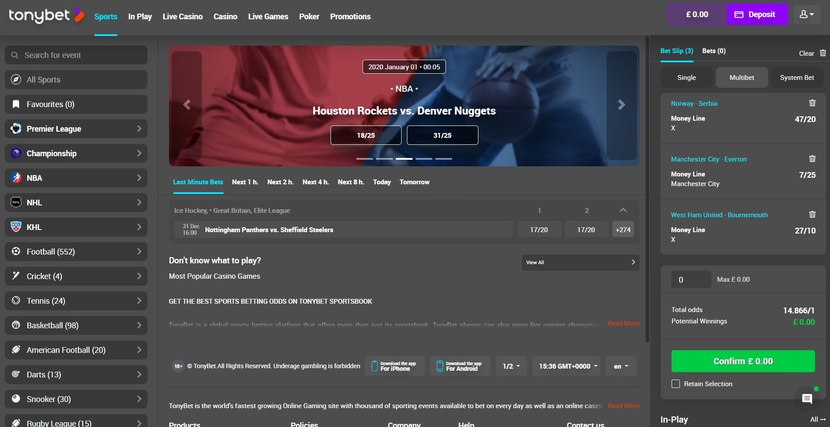 Hailing from Lithuania and founded by an MEP who used to wear a t-shirt to official events, Tonybet is a unique bookie to say the least.
They have only been operating in the UK since 2016, but their combination of a comprehensive casino product and a sportsbook that offers just enough in terms of features without overloading the punter, has gained them many fans.
Live betting is great fun here, and anyone who enjoys casino games alongside their sports betting will find it hard to beat. The fact that there are a lot of sports you don't often see and sometimes over 1000 betting lines on bigger fixtures only sweetens the deal.
Sports Markets & Odds
You might not always find as many sports categories active here as at other sites, but there are more than 35 potential options. Plus, being a site with European heritage some of them are really rare: bobsleigh, luge, skeleton (it's when people launch themselves down an icy slope on a giant ice skate, effectively) – some of them are real eye openers.
Lithuanian politics won't be covered in greater depth and esports is given plenty of airtime too, and of course all the popular sports are available as well, although it's not just the variety of sports that is impressive but the depth of market for each event.
This is no exaggeration: there are currently 1229+ markets available on a Man Utd vs Arsenal Premier League fixture. That. Is. Insane.
Other sports follow the same trend, albeit on a sliding scale, and there are leagues to bet on worldwide in many of them. Horse and greyhound racing has also recently been added.
Odds are available as fractions, decimals, or American, and they tend to be better than the industry average but rarely market leading. Saying that, for some of the more niche markets you'll be lucky to find them anywhere else at all.
Live Betting/Streaming
There is no streaming capability at Tonybet, let's get that out of the way to start with. But before you run away, you should know that their live betting interface is exceptional none the less.
It's not the most detailed in-play experience, but it's a lot of fun and from a user perspective it couldn't be simpler to operate or quicker to react.
Where available, the match tracker graphic will update in real time keeping the bettor abreast of what is going on, with a few handy stats on show to give an indication of how the game has been going so far. At the same time, the ever changing odds will be indicated with red and green arrows that show increases and decreases in price.
Most useful of all, though, is the ability to monitor games from the main interface before you get into event view. While browsing all in-play fixtures you can choose the match tracker from the game you are most interested in to be on display, you can also bet on some of the most popular lines from this point. On a busy day this saves a lot of back and forth.
Like a lot of things with Tonybet, this service is thorough enough to give a better than average experience but still keeps things relatively simple, appealing to the average bettor who wants the full service but without getting bogged down.
Features
Cash Out
This now staple feature was introduced at Tonybet in 2016, bringing them up to speed with brands 10 times their size.
Cash out allows the punter to end their bet early if things are going well and guarantee a (smaller) profit rather than letting the bet run and risk losing. It can also be used to limit a loss if your bet isn't looking like a winner but there is still time on the clock.
Its availability will be clearly marked but like anywhere else, not all bets are eligible so do check beforehand.
Statistics
Again, most bookies offer stats, but we really like the way Tonybet combine their stats tool with their results service and let the punter drift between the two.
You can display the information in a weekly calendar view if you are researching an imminent fixture, but there are also a million other ways to filter through the masses of data in there.
Actually, in terms of navigation this statistics tool is one of the best we have used. You can seemingly get anywhere from anywhere else; something this detailed should feel complicated but it really doesn't.
Blog
This was a bit of a non-feature for a while because it wasn't updated for almost a year. They have revived it now though and it provides some really useful insights and opinions.
It is split into two parts; sport and casino. Each has relevant articles within, some of which are aimed at increasing knowledge or offering tips while others are more general interest pieces.
A blog is a nice addition to a betting site and a reason to stick around a little longer once you have made your bets, or a way to kill time while waiting for an event to begin. Keep it going, Tonybet!
Banking
| Banking Method | Max/Min Deposit | Max/Min Withdrawal | Notes |
| --- | --- | --- | --- |
| Debit Card | £10 | £10 | 3-5 Days |
| PayPal | £10 | £10 | Up To 2 Days |
| Neteller | £10 | £10 | Up To 2 Days |
| Skrill | £10 | £10 | Up To 2 Days |
| Paysafecard | £10 | £10 | Instant |
The time frames above include the time it takes Tonybet to process any requests at their end, which they say is 48 hours max, so you could be looking at getting your hands on any winnings even quicker than the table shows, especially if using an ewallet.
There are no fees to worry about either.
Casino
The casino is no also ran at Tonybet like it can be at other sportsbooks, it is a flourishing product in its own right that offers slots galore and a very impressive live casino and live games section thanks to their links with fellow Lithuanian company Betgames TV.
They have more than 650 games on there all told, and joy of joys you can list them by provider. This makes life so much easier if you know you hate a certain game developer but love another. Not that you should have any qualms about the developers on offer here, a list that includes the likes of Play'n GO, NYX, iSoftBet, NetEnt, and Quickspin sounds good to us.
There are other ways to narrow down the games on display but the execution here isn't the best on desktop. On mobile you can swipe along the list no problem, but the menu is very fiddly using a ouse or laptop tracker pad, and so small that you might miss it altogether if you don't know it's there.
The same can't be said of the game tiles which are massive and really let the user in on what the game might be all about and allow the graphics to shine through. Top winners are also on display to either inspire you or make you jealous depending on the kind of person you are; personally, we like to feel happy for other winners… honest, no really we do.
A lot of the promotions are aimed at casino players too, so if you tend to bet on sports and casino this is an excellent choice.
Live Casino & Live Games
It's not an exaggeration to say that TonyBet has one of the biggest, most impressive live gaming offerings on the internet.
Not only does their live casino actually contain two different live casino lobbies in NetEnt and Evolution Gaming, but they also sport a category that very few other casinos are currently bothering with; Live Games.
What's the difference? Well, Live Games tend to be a little simpler and cover things like lottery style betting and dice rolls. That said, you can also make simple bets on poker, baccarat, and a game called War of Bets – higher or lower basically. These are all professionally presented by live dealers and are a nice way to bet on the quiet.
Over at the Live Casino, if you can find more Blackjack or Roulette tables anywhere else you will be doing well. They span from low risk up to really high stakes games, and there is a small amount of poker available too. This is a Live Casino aimed at traditionalists though – game show style games aren't a focus here.
Desktop Site
Onto the site itself then, and the homepage presents plenty of opportunities for last minute betting, offering markets that are about to close, and then those in the next hour, 2 hours, and so on. You can also see what's currently in-play so you are brought up to speed the moment you log on.
The sports list details how busy each category is and a series of drop downs help to filter the many options initially by country and then by league or competition – that is, if the quick links don't already have what you are after. If you are really struggling you can search for your event using the search bar.
This all makes for smooth sailing indeed, and although the interface isn't going to win any beauty pageants it's nice enough to look at with soft greys denoting different areas and options plus the odd pop of colour here and there.
This more simplistic approach (we wouldn't go as far as to call it no frills) also helps keep thing moving at an impressive pace, the lack of any heavy duty graphics etc means the site can jump from one page to another in milliseconds so it's not going to irk those of you who easily lose patience.
Mobile Site
As well as a mobile website apps exist for Android and Apple users, and that's good to see because the mobile capabilities here are more newsworthy than some of Tonybet's much bigger rivals.
It's super smooth, super slick, and feels great to use from an intuitive point of view as well. Navigation is slowed down a tad due to the re-design for the smaller screen sure, but you get that problem everywhere else too, and actually, with this app the user can focus in on what they are looking for with no other distractions.
The main menu button also serves as the sports list which keeps it out of the way unless you need it, but it works identically to the desktop site by using drop downs to narrow down your search. There is more scrolling to do but again, this is common with apps, and the option to minimise certain fixtures helps keep this to a minimum.
We have seen the odd innovative little feature on other apps that don't feature here, such as a 'back to top' option when you have been scrolling for a while, but that's hardly a cause for concern, and in all honesty it's a struggle to find many points for improvement.
It's easy to use, it's quick to respond, and you can get a bet on in just a few seconds if you need to. What more do you need?
About
You have probably never heard of Antanas Guoga, but if you were from Lithuania he would crop up in conversation all the time. He sounds like a character from a Martin Scorsese movie, especially when you look at his previous business interests.
Nicknamed Tony G, he is a professional poker player, businessman, philanthropist, and politician – and he was also the Rubik's Cube champion of Lithuania by the time he was 10. More importantly though, he was the founder of TonyBet.
Tonybet opened in 2009 and the business grew steadily in the Baltic region, operating 20 shops as well as the website. In 2016 Betsson AB acquired the Lithuanian assets of the company for £6million all told, and Tonybet used this cash injection to push their business in more prominent markets.
These days they serve the whole of Europe operating from Estonian and UK Gambling licences, and put as much emphasis on their casino and gaming product as they do on their sportsbook.
The company are also one of those rare gambling brands that built and run on their own home made platform and interface, a task which most new brands sub-contract out to a platform provider. This has benefited them two-fold; firstly it means they have complete autonomy over their product and how it runs, looks, and feels, helping them stand out in a very busy market place, and secondly it gives them another income stream, as they have licensed the platform out to 22Bet and there is nothing stopping them selling it to other brands either.
Why Bet With Tonybet
The corner of the market that Tonybet have carved out for themselves would suit those who regularly bet on sports but do an equal amount of gaming/slotting.
They are uniquely placed to offer the best of both worlds without focusing so heavily on one product that the other is left in the shadows.
If you were a hardcore gamer then you would probably be better suited to a casino with greater depth and more fancy features, but for anyone who wants a solid product in both departments with regular betting features, but who wouldn't use all of the really technical stuff, Tonybet is your man.
As a sportsbook it is 100% worthy of your business even if this is all you do, especially if you like exploring European markets alongside UK ones, and the fact that they now also offer horse racing completes the picture.
Customer Support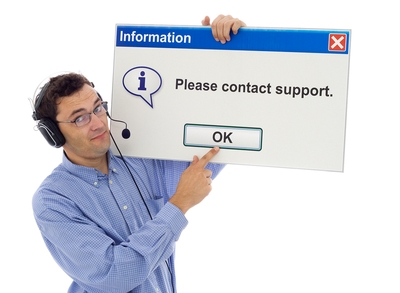 You won't be able to get live support 24/7 at Tonybet, but the live chat should be open between 7am and 3am their time, which works out as 5am and 1am UK time. They seem to go off on breaks and shut live chat now and then in our experience, though.
The only other way to contact support is via email or by using the contact form on the site – which is essentially the same thing – so support is at their convenience and not at yours.
A phone number would have been nice but we can live without it, so all in all Tonybet sits somewhere mid-table in the league of customer service; it's good enough without being exceptional.
You've got to laugh at the FAQ, though. It's decent enough, but they aren't even pretending to care about anything other than getting you to bet. Any question that has to do with placing a bet, cashing out, or depositing money has in depth information with pictures to guide you, anything that doesn't make them money gets a fairly generic one or two line answer that isn't all that enlightening.
Thanks a lot Tone…
Licence & Contact
Live Chat – This isn't available from the contact page weirdly, but there is an icon in the bottom right corner of each page that opens live chat. It's easy to miss if you don't know it's there.
Email –

[email protected]

is the email. There. Nice and simple.
Phone – They must have one, but they aren't sharing it with their customers.
@tonybet – The social media manager must have been replaced recently, because after a long hiatus this account is active and alive again.
Address – You will need to send your letter all the way to Lithuania if you want to write: Tonybet OU, Upes st. 23, Vilnius, LT-08106
UK Gambling Licence – 39126